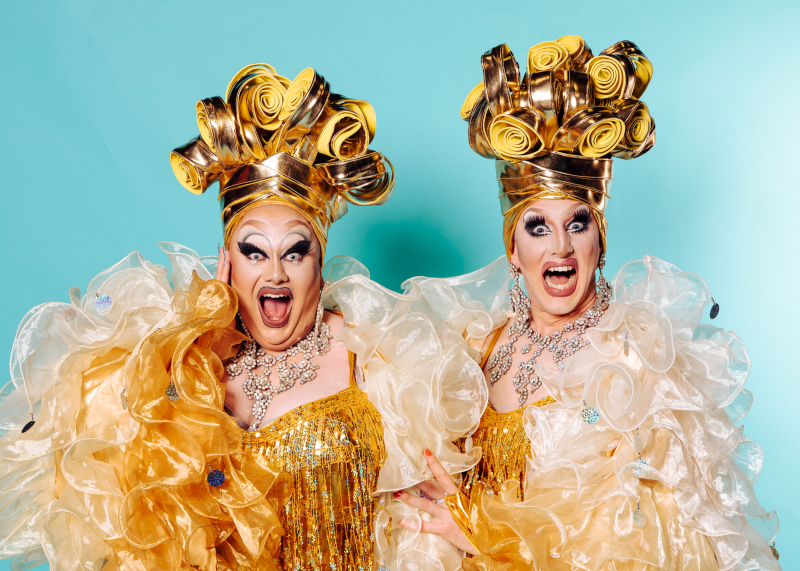 As Ru Paul's reality show shined a light on drag in mainstream culture, two kiwi queens have worked tirelessly to ensure Auckland's appetite for drag was satisfied. From taking over cabaret restaurant Caluzzi to starting monthly event Drag Wars and performing at Family; drag duo Kita Mean (32) and Anita Wigl'it (29) have been at the forefront. Now they are taking on their biggest challenge yet, hosting TVNZ's House of Drag. They talk to Oliver Hall about the drag competition show that is breaking boundaries and taking kiwi queens to international audiences.
2010 was the year that gave birth to the drag personas: Kita Mean and Anita Wigl'it. For Kita it started with dressing up for a New Year's Eve party and wowing all her friends. For Anita, it was watching Tony Sheldon playing Bernadette in Priscilla Queen of the Desert the Musical and donning a dress for her work Christmas Party. Frocking up changed both their lives.
After four years of doing drag in Auckland, Anita moved to Canada to study for two years, while entering competitions like Vancouver's Next Top Drag Superstar to keep her craft sharp; while Kita continued to make her mark on the Auckland scene.
When Anita returned the two started a monthly event called Drag Wars. The popularity of RuPaul's Drag Race had caused, "this huge surge in the amount of people that wanted to do drag, in Auckland and NZ as a whole. Due to the size of the place, it was quite limited for performance options, especially when you're first starting out. So we created it as one all-encompassing performance platform so people if they wanted, could give drag ago," Anita tells us.
The inclusive competition welcomed drag queens, drag kings and lesser known 'hyper-queens' – a cis woman who dresses as a drag queen. "It's like a hyperextension of themselves," explains Anita, adding, "for us, it would have been wrong not to include all types because Drag Wars was there to create a platform for creativity."
"We've got some incredible Hyper-Queens in NZ, who are just as good as men dressed as women, or transgender drag queen or drag kings. They're incredible talent." Agrees Kita.
Well established in the drag community, when K Road's legendary Caluzzi Restaurant came up for sale, buying it felt like a natural next step for the duo. "We both loved Caluzzi, all it stood for and the sense of history behind it, so it was really just natural for it to be our next project together. We've never looked back," says Anita, reminiscing warmly.
It's clear the two are great friends and successful business partners, but some might wonder if there's even more spark to their fire? One episode of House of Drag has already started with the two lying (fully-costumed) in bed together, with Anita lovingly shaving Kita's back. However, asking about the depth of their relationship is only met with zigging one-liners from Kita:
K: We kind of like to think of our relationship as flatmates that often bone on the weekends.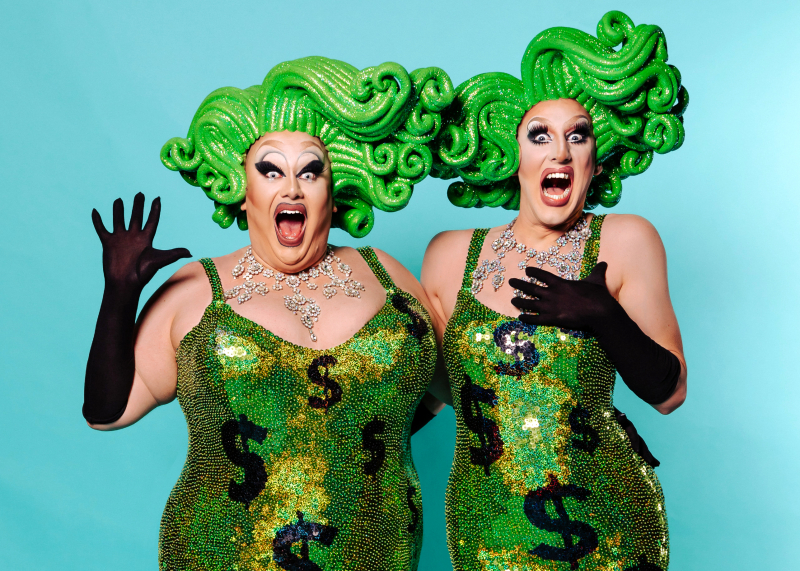 Do you actually live with each other?
K: Well, not really together. You know, I take up a lot of room so she just sleeps in the kennel outside. To be fair, we really don't sleep together often anymore.
So you're actually together?
K: We were a couple, but I was on top once and then she turned into my flat-mate!
A subject which I can get straight answers on, is House of Drag. Kita tells us that series producer Amanda Pain saw her opening for international drag superstar Bianca Del Rio and then began attending Drag Wars. She pitched the idea of an NZ drag talent show to Warner Bros, who questioned who could host it. "She showed them footage of Anita and myself performing on stage and Warner Bros believed in it straight away," she says.
Kita and Anita were asked to put forward names of kiwi drag-stars who might want to join the show as competitors. "We literally sent a list with pretty much every single drag performer in the entire country," Anita tells us. "We chose some of our top picks, and the reason we chose them as our top picks was because individually they were quite unique and interesting, and represented the broad spectrum of drag performers across NZ."
"We do definitely have a conscious drive to build up younger performers. It's definitely something we're passionate about because we were built up by some really cool drag queens when we started out," says Kita who gives thanks to her 'drag mother' Tess Tickle. "She has done so much for drag in New Zealand. She brought me up and I wouldn't be here today without her. So it is important for us to give younger one's opportunities because they can flourish and then hopefully, one day, they'll be talking about us as old bitches that helped them through the ranks!"
House of Drag is the first English-speaking mainstream drag competition show to be inclusive of trans contestants, with a transwoman (Trinity Ice) and a transman (Hugo Grrrl) both starring in this first season. Both Kita and Anita felt it was important for this inclusion to be showcased and celebrated as part of drag culture. "You only need to see Paris is Burning to realise that trans-ness is deeply rooted in drag," Kita tells us. "In a time when it was even harder to be accepted, drag was a place where people could feel alive and they could feel amazing and encouraged to be themselves."
House of Drag is proving a hit with Aotearoa audiences with many praising the Kita and Anita's hosting talents. But their star power looks set to shine beyond our shores, with the news that Warner Brothers have sold the show internationally into at least one other country. While express cannot yet reveal where, it is not the close sunburnt isle that you might be expecting.
Kita and Anita are excited for the opportunities that this international exposure could offer the contestants. "Having a market that is wider than your own country is amazing in terms of the opportunity it could create. You could get to travel overseas as an artist, spread what we do to the world and represent New Zealand drag!" Anita gushes.
As a parting gift, the duo leave us with the same message they offer departing contestants: "Dah-da, da-da-dah, fuck off!"
Perhaps the most iconic line in NZ reality TV history, it feels even more brutal when you're on the receiving end of it.
Watch House of Drag on TVNZ OnDemand. New Episodes available every Thursday throughout December.