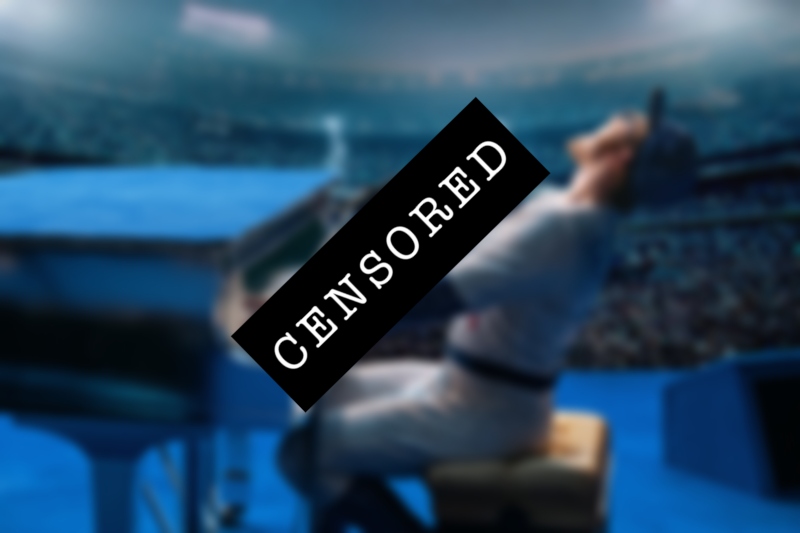 Elton John and Taron Egerton who plays the music legend in Rocketman, have come out swinging against Russian censors for cutting scenes of gay sexuality from the film.
According to reports, the film about Elton John has been edited to remove scenes that include same-sex kissing, sex, and even an image of the star with his husband and children has been cut from the film for its release in Russia.
The censorship which was revealed by Russian film critic Anton Dolin, who took to Facebook writing that the cuts are "very noticeable," adding that, "It's about a principled five minutes, very important for artistic purpose."
Following the reports, Elton John and the film's producers responded with a joint statement rejecting "in the strongest possible terms the decision to pander to local laws and censor Rocketman for the Russian market."
They continued, "The local distributor has edited out certain scenes, denying the audience the opportunity to see the film as it was intended is a sad reflection of the divided world we still live in and how it can still be so cruelly unaccepting of the love between two people."
"We believe in building bridges and open dialogue, and will continue to push for the breaking down of barriers until all people are heard equally across the world."
The star of the film Taron Egerton, who plays Elton John in the film said via his Instagram that he was "crestfallen" about the cuts to the film.
"I, in no way, condone this decision and feel disappointed I wasn't made aware and given the chance to fight this move. Love is love. No compromises," Egerton commented, along with a rainbow emoji in the post.
Confirming the edits, The Russian distributor stated that the "changes were made to the film in accordance with Russian law." – Referring to the nations 'gay propaganda' law, which was signed by President Putin in 2013.
The law which restricts the positive representation of homosexuality in Russia effectively bars any expression or discussion of homosexuality in public, on television, in print or on the internet, has also been used to ban Pride events and LGBTI rights demonstrations across Russia.
The law has been blamed for increased anti-gay sentiment, discrimination and violence against members of the LGBTI community in Russia and in Russian influenced states.