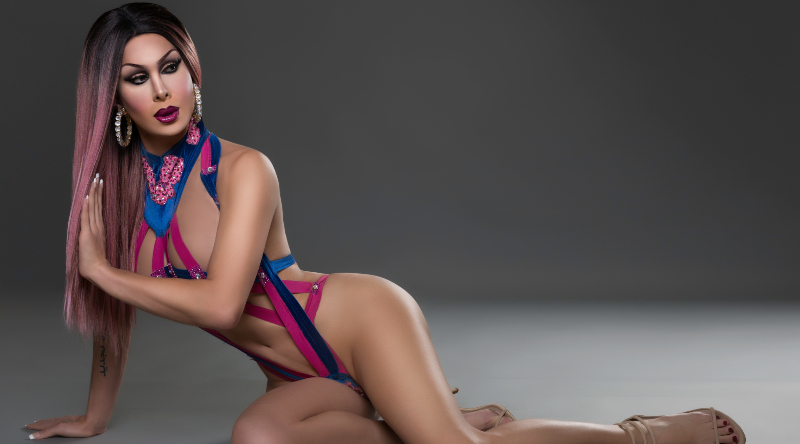 Trinity The Tuck Taylor is 'super excited' to be returning to NZ as part of Dragfest 2019 – The Realness Tour. He tells Oliver Hall about his life in and out of the drag spotlight, sharing the crown with Monet and wanting more plastic surgery.
Born in Birmingham, Alabama, Trinity aka Ryan, admits his childhood was hard. "I grew up pretty poor and I was raised by my grandparents. They did a great job! Gave us everything they could, but living in Alabama isn't ideal for a lil' gay boy." He reflects telling us, he was outed to his family at 16 by his cousin who overheard him telling others over the phone.
Trinity tried drag for the first time after being dared by a friend to do it as a one-off. He fell in love with the adrenaline rush of performing before a live crowd and realised he was good at it. In 2011, he won Miss Pulse at Orlando's renowned Pulse nightclub.
Five years later the nightclub was attacked in a deadly mass shooting. "It was horrible," he tells us. "I had several friends who were entertainers that got trapped in the dressing room that night! Luckily they survived! It really touched home because I made so many memories there! It's truly awful what happened!"
That same year Trinity was recruited for Season Nine of Ru Paul's Drag Race, a competition where queens from America's south have traditionally fared well.
"I don't think it's really about southern queens in general but they do tend to cast southern pageant queens. People can say all they want about pageant queens but pageants groom you! They give you a polish that is often needed to get ahead with drag."
Trinity says his Season Nine experience taught him a few things about his favourite performance art form. "You can't put drag in a box because there are so many different types, and drag is hard!" He emphasises.
He returned to the bosom of the Ru Paul family for All-Stars Season Four having made the final four in Season Nine. This time he won but in a Drag Race first shared the crown with joint winner Monet X Change.
"Every drag race comment I see on social media they never say 'one of your winners', they always refer to Monet as the winner or refer to me as the winner so I don't feel as though we share as it. Our reigns aren't wrapped around each other. We both got the full prize – both got the crown and sceptre," she says with a wink, adding: "I'm happy for Monet and I'm certainly happy for myself!"
Trinity notably talked openly about the numerous plastic surgery procedures she has had on RPDR, as well as other shows she has appeared like Botched. He tells us he intends to continue going under the knife. "There's nothing I regret. I want more and I will have more. I think people should worry more about themselves and not what I am doing!" He says addressing fan's concerns of plastic surgery addiction.
"If I'm happy and I'm in no real danger than it shouldn't matter if I want my face to look like a pug if that's what I wanted."
For Trinity, it's about keeping to her mantra for both life and drag, "stay true to yourself." He advices.
See Trinity The Tuck perform at Dragfest 2019 – The Realness Tour at Logan Campbell Centre 2nd July https://itdevents.com/tours/dragfest2019/