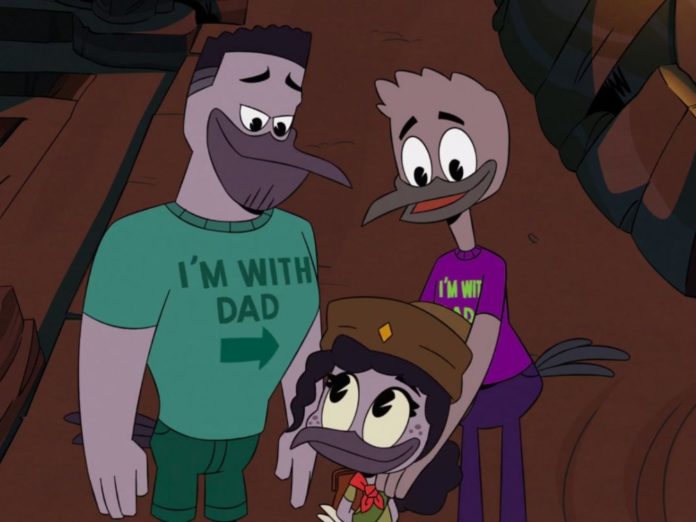 Disney has rebooted a children's favourite and given one of the major characters two gay dads.
The season 3 premiere of Disney's DuckTales reveals that young duckling Violet Sabrewing (voiced by Libe Barer) has two fathers.
The introduction of Violet's two gay dads is one of the latest attempts by DuckTales' showrunners to establish a more diverse atmosphere than what was seen in the original 1987 series.

Violet, who is a classmate of Huey, Dewey and Lewey, was originally introduced last season.
In the Season 3 premiere, "Challenge of the Senior Junior Woodchucks," Huey and Violet facing off at their scouting group for the title of Senior Woodchuck — with Violet eventually earning the title after saving Huey's life.

As she celebrates in front of the assembled crowd of family members at the event, it's revealed that Violet has two dads — who are adorably both wearing T-shirts bearing the phrase "I'm With Dad."

At one point Violet's friend Lena cheers: "That's my sister from a couple misters!"

The two dads don't have any lines in the episode, and in a Tumblr blog post, co-executive producer and story editor Frank Angones admitted that Violet's dads, while present in the episode do not play a huge role in the story.

"As with all of our characters, we had a lot of conversations about who Violet was and what her background was and came up with this fun notion of her too enthusiastic, overly supportive dads who love being dads," Angones said.
"We didn't really have a story built around them, but when the time came for an episode focusing on Huey and Violet in a particular situation, it made sense that they would be there (and it resulted in Matt Humphreys coming up with one of my favourite Lena lines ever).
"But I'm well aware that the "queer representation through parents and background characters" trope is an issue, and we've sort of stumbled backwards into a lot of heteronormative romances in this show due to legacy characters with pre-existing relationships."