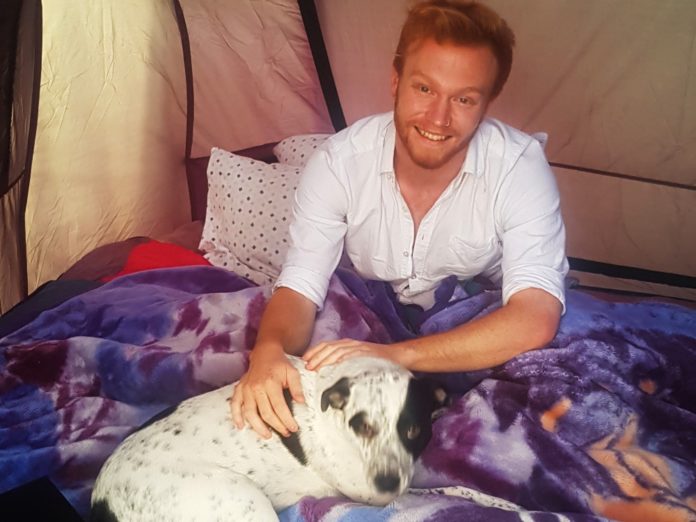 Mr Gay New Zealand Liam Reid is locked down in a tent on his sister's property. Self-isolation has given him time to reflect on his pace of life, meditate and practice gratitude.
Tell us about your Level 4 Lockdown – where are you? Who's in your bubble? And what are you doing to keep your mental health in check?
Currently, I am in the beautiful city of Otautahi. I am staying with my sister, her partner and their boarder so four of us to our little bubble! I am staying in a tent on their property just so that I have some space the house doesn't get too congested, but it is definitely the equivalent of glamping haha! I have been working out each day which has been remarkable for my physical and mental health. Remembering to take time for myself, get out and go for a small walk around the block if I need it. I make sure that I am staying in touch with all of my family, friends and work whanau through various means of social media, zoom, texting and phone calls, but also taking regular breaks from technology.
What are your top tips for express readers who are struggling with self-isolation?
My top tip for people struggling with self-isolation is: Everyone is in the same boat! I can't stress that enough. We are all experiencing a change in our lives and it's important to realise you are not alone in this change of lifestyle.
Take time for yourself: Take it slow, don't rush. Listen to your mind and body, we are in a very rare moment of stillness and what's even rarer is that it's our entire nation, so just breathe.
I also want to stress that if someone asks you what you have been doing for the day, please feel okay to reply "nothing", by doing nothing, we are actually making an effort to prevent the spread of this horrible pandemic.
Talk to people: Even if it is just one person per day, it is vital that we all stay connected to one another in some way, shape or form.
Try something new: I personally have taken it upon myself to work out daily (tell the Liam of February 2020 that and he would laugh) and I am also learning to play my sister's guitar. It's important to keep our health and wellbeing in check even if it is for 30 minutes per day.
What is the most positive aspect of self-isolation you've experienced so far?
Definitely the connection between people. It is really remarkable how people have been striving out to connect with one another. We live in a globalised world and it is serving a positive purpose for everyone to keep in touch. I see so many Instagram stories of people using the new House Party app to connect with all of their wider circle of friends and family. I have personally had several group calls with my work team, extended family and wider friendship circles – people who I would struggle to find the time to talk to in the regular day to day. I have connected with so many new people since lockdown and it has been really heart-warming and supportive.
What plans do you have between now and day 28 of lockdown?
My plan is to keep on keeping on. I want to keep talking to as many people as I possibly can to make sure we are all okay in these uncertain times. I have set some personal goals with my fitness that I am pushing to achieve. I am also working on connecting the Student Volunteer Army with the likes of the New Zealand Aids Foundation and a few other initiatives that are rolling down here.
What are you missing most about 'normal life'?
Having close contact with all of my friends and being able to ask for a hug if I needed one.
Physically distancing myself from my friends and partners has been a mental challenge but one we all face together and continue to do so – so the support is there. I miss my dance partner and being able to practice with her. I miss teaching my students.
What will be the first thing that you can't wait to do when regular life resumes? Haha, I'll give you two guesses?!
Just kidding – I can't wait to get back into my studio and practice with all of my dancing students and dance partner. There isn't a lot of space in my sister's garage so it's been a challenge to not have a studio to move around in.
Moving forward is there anything you think you will change about your life following self-isolation?
Yes. I want to slow down my everyday pace a little. This lockdown has given me a chance to realise that my mind and body needed a break – I was burning the candle at both ends. I used to meditate a lot and have been getting back into that since lockdown and I want to find a way to incorporate more of that 'me' time into my life. It's important to have rest to also reflect and decompress, keep yourself in check and make sure that you are happy. I want to stop taking so many things for granted! Spending time with friends, going for a drive, going for a hike, shopping, eating out… Having a roof over my head, a warm bed, the essentials. I want to be of service to people who are in hardship and can't seek refuge, especially in times of crisis.
Is there a closing message you would like to share with our gorgeous LGBTI+ community?
Practice gratitude – please! If you are well and healthy, please rejoice in that fact. We are being given a chance to breathe and reset our lives. Take a break and focus on your family, your friends, your neighbours, your local supermarket workers, your local doctors, make sure you are okay and then make sure everyone around you is okay – just do it from a distance. For a lot of us, we are not on the front line, please don't take this for granted. It is normal to feel lost in this situation, we don't know what to expect and that is okay. We as a community are strong, we can do this!
Kia kaha,
Arohanui