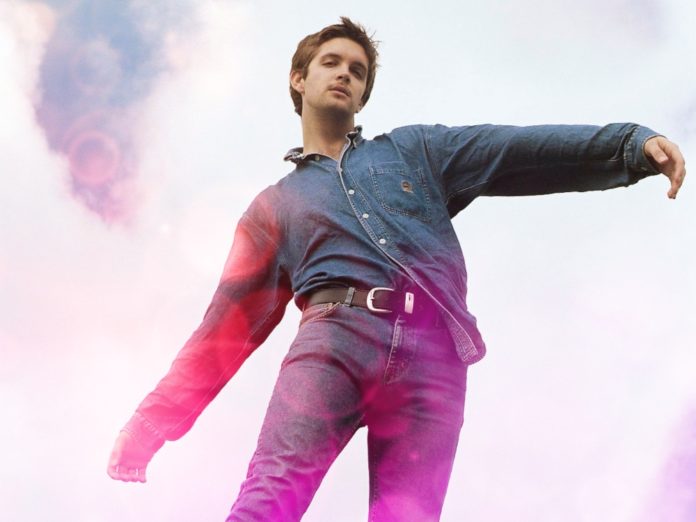 With the return of Lockdown Live tonight from 8 pm, express chats with NZ's Very own up-and-coming Queer Star Jack Panther ahead of his live performance at 8:10 tonight via Instagram Live!
How is life in Level 2 treating you?
Life is treating me far better in level 2! I'm happily back into my flat in Wellington and I'm also back to work at my part-time job. It's certainly feeling a bit more normal and hopefully, that'll continues.
You've just released your new single 'This Dream' – what's the song all about?
Yes, It's been very exciting! 'This Dream' was written about a dream I had about my now ex-partner. It was the height of summer and we had only just met. We knew the only way we could continue was to do long distance. The night before we separated to go back to our normal lives, I had a dream that we were married. When the dream ended and I was still half asleep, I picked up my phone, wrote down a couple of keywords before I fell back asleep.
It was a strange, mystical dream and I didn't know how to tell him. Instead of
telling him, I wrote this song in the morning sun of my porch.
It's the most honest lyrics I've written, it's like having my diary and my subconscious on display.
Can we expect to see a video with this release?
Keep an eye out… maybe sooner than you'd think It's an atmospheric and melancholic track – perfect for these cooler autumn days – is this a sound/vibe you gravitate towards?
That's a great way to put it, that's exactly what I hoped for with 'This Dream'.
I do find it hard to gravitate myself towards one sound and that's mainly because I'm inspired by a huge range of music.
I like the idea of writing a track to a particular vibe or a sound, and in that way, each song is sonically quite different. It's all still me, it's just showing different inspirations, different parts of me.
You're releasing music in the midst of a pandemic – has this had any impact on the project?
A surprisingly huge amount! It's flipped my entire project around. It's been a great way to see how I can adapt to a crazy situation that throws everything off balance and make it work in a positive way.
Artists haven't been able to perform live during in Level 3 and 4, so how important has it been having live streaming events such as this (Lockdown Live) running throughout?
Lockdown Live's such a great initiative, it's really helping to give artists like myself a platform to perform. I'm very excited for my show later today and share a bit of upcoming unheard tracks.
As a queer artist making music in 2020, what do you see as your biggest challenge?
Great question! I feel that sexuality isn't spoken about enough in the New Zealand music scene.
It's something I'm really passionate about and that's what I would like to help change. Make sexuality it more of a conversation within music, break the boundaries.
If you could curate your own New Zealand festival, what five Kiwi acts would you have as headliners?
Womb – I love them, always have always will.
Fazerdaze – Absolute sweetheart and legend
Nomad – Their talent knows no bounds
CRYSTAL – Incredible musician and friend
Sofia Machray – Gorgeous roar of a voice, big up-and-comer
---
Lockdown Live – a weekly live streaming initiative to support emerging New Zealand musicians. Thanks to our friends at NicNak Media starting from 8 pm on Wednesday the 20th of May, each artist/act will perform for 10 minutes, streamed live from their own Instagram accounts. With New Zealand currently in lock-down, many musicians are not in the same 'bubble' as band members and/or producers, so each act will tailor their performances accordingly.
You can view tonight's performances via these links
@dansharpmusic @jackpanthermusic @geoffong @vikaemusic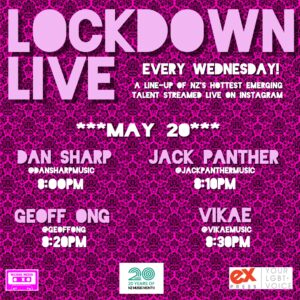 Lockdown Live was set up to help Kiwi artists during the COVID-19 Lockdown. With the New Zealand music industry being severely impacted by the pandemic you can help support Kiwi artists and donate to MusicHelps which provides useful information and sources of support to Kiwi music people affected.