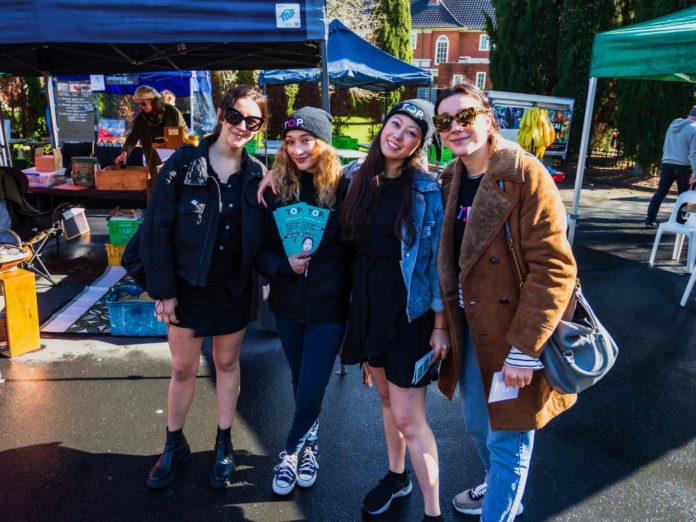 express sits down with openly Bisexual T.O.P candidate, Adriana Christie who is running for the highly contested seat of Epsom in the upcoming 2020 General election.
30-Year-old Christie, first made headlines for her ambition to invoke change in local government before being elected as a member to Auckland Council for the Waitematā Local Board.
Now in her second term, Christie is now setting her sights on winning the highly contested and influential Epsom Electorate currently held by ACT Leader David Seymour.
Christie who is running for The Opportunities Party (T.O.P), says she chose to run for T.O.P due to her belief in "improving the wellbeing of people with clear strategies by utilising data and science as useful mechanisms to better run our government".
"T.O.P is the only party that shows how they are going to fix the housing crisis, address climate change, help people who are in the welfare trap. Not forgetting to mention, a focus on supporting business and entrepreneurs to thrive."
When it comes to policy, Christie says her key focus this election includes:
Introducing a Universal Basic Income – $250 a week for all adults, $40 for children. No conditions. "A UBI removes the welfare trap, rewards all work (including unpaid), encourages training, and supports businesses. With a UBI and flat tax of 33%, you'll effectively pay no tax until you earn over $39k."
Climate Ready Economy – "The COVID recovery infrastructure spend is a once in a lifetime opportunity to future-proof our economy. TOP will invest in where we get the best return for our economy and environment. We'll improve water quality, the internet, and energy efficiency of our homes and businesses. This will save money and reduce emissions."
Democracy Reset – "It is our view that the strength of our democracy has been eroded over recent decades. The question now is how to restore full public participation. The Constitution should cover rights as defined in our current Bill of Rights and Human Rights Act, or more specifically:

Individual freedoms, rights (including gender expression and sexuality, and religious rights so long as they don't contravene other rights of the individual).

Women's rights,

Ethnic rights,

Equal opportunity, and

Rights of the child."
Christie also adds that LGBT+ rights are also a priority for her: "I believe that our LGBT+ community is diverse and represents a cross-section of our society and will benefit greatly from the above policies. We also see the benefit in looking into how our democracy is set up and a change of approach would largely benefit all of NZ, including the LGBT+ community."
Along with the above policies, Christie agrees that the rainbow community have our own set of challenges and issues that need to be taken on.
"I have had friends who have been assaulted in the street due to their sexuality. Their drinks have been spiked. This behaviour is not acceptable. It's important to feel safe."
"Mental Health services should definitely have a primary focus in Aotearoa. We need to invest more in organisations that help us develop resilience. I do have to give a shout out to OutLine*, Rainbow Youth*, and all the awesome organisations whose Mahi is focused on supporting us. *Please Donate to those mentioned above if you can," she adds.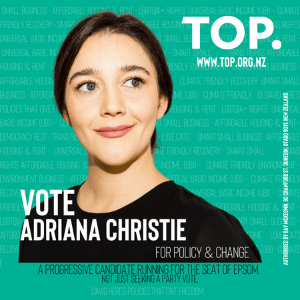 2020's Important Referendums:
When it comes to our nation's upcoming referendums, Christie's position is clear: "I will vote yes for both."
"Illegal cannabis selling funds gangs; legal cannabis funds schools," Christie says.
"The End of life Bill is about giving someone in pain who is dying, a choice of death. Dignity is something we all should have the right to have even on our death bed," she adds.
With New Zealand having so many influential and inspiring female role models, Christie says she personally admires the work that Chlöe Swarbrick, Jacinda Ardern, and Nikki Kaye have done for women in politics.
"I have had the privilege of meeting all of them; they are all caring, empathetic humans. They listen and are kind. I've actually voted for all three of them."
When it comes to global politics, Christie says that Bernie Sanders is her political role model. "He's a libertarian, a progressive, his values are his utmost priority and he stands by them."
Campaigning Left in a Right-Wing Electorate:
With the election just around the corner, Christie is aware of the challenges she is facing in the Epsom electorate, however, sees hope and the end of the tunnel.
"After doorknocking for a few weeks I've noticed that many of us that live in Epsom care for the environment as much as we care for our economy – This is excellent as T.O.P's core policies are to address these."
"Only David Seymour's old landlord has actually refused to talk to me because 'he is a good boy' and bought her flowers," she concludes.