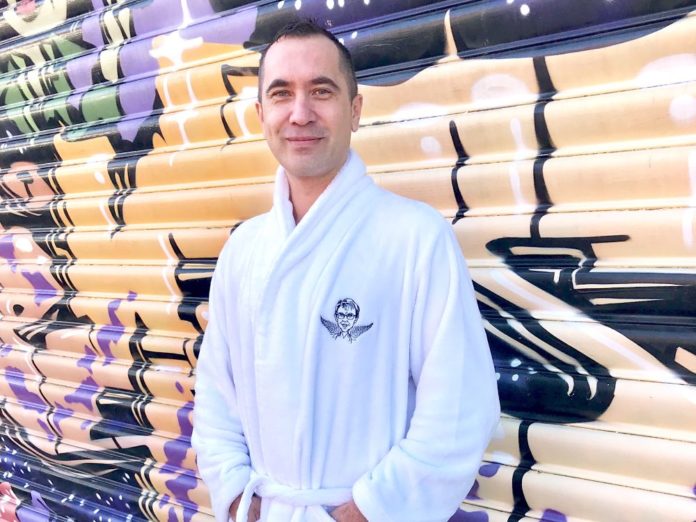 In January this year, a seed was sown, one that would breathe life into a quote by André Leon Talley in an utterly unimaginable way. Belinda Nash spoke to Famine of Beauty founder Kevin Barrett to piece the story together.
When fashion icon André Leon Talley proclaimed "It's a famine of beauty… My eyes are starving for beauty!" in 2009's epochal documentary The September Issue, his quote becoming a statement describing 2020 couldn't have been further from his mind. And yet here we are.
Let's cast our minds back to summer. While most of us naively revelled in beaches and barbecues, nurse Kevin Barratt and partner of 19 years, Gavin, were following the story of a little known virus in Wuhan, China.
"A new star started to emerge, and that was Ashley Bloomfield," says Barratt. "Gavin and I were ahead of the curve; we were both massive adorers of him since forever ago.
"Then, of course, lockdown happened. With so much anxiety around COVID, seeing a public servant pushed into the limelight was a beautiful reminder that not all superheroes wear capes."
Daily updates with New Zealand's Director-General of Health became appointment viewing.
"I referred to these as 'My daily snuggles with Ashley'," Barratt confesses, adding that his fandom escalated to amassing hilarious "badly photoshopped" images of Barratt and Bloomfield from infamous scenes in Ghost and Dirty Dancing ("which Gavin thought it was cute").
Then, on the 4th of May, a week before Aotearoa entered into Level 2, the Grey Lynn resident woke up feeling "cold, hungry and shitty".
"My old bathrobe wasn't cutting it and Ashley Bloomfield popped into my head, so I thought why not put him on a bathrobe? That same morning, I opened my Oprah Winfrey book, What I Know For Sure, and turned to a page. It was all about possibilities, pushing forward, working hard knowing the universe will take care of us.
"Then, on that day at 1 pm, Ashley announced we had no active cases of COVID in New Zealand. It felt like an auspicious day," he says.
At warp speed, his new business, Famine of Beauty, began to flower. It's a site selling beautiful products starting with Barratt's "luxuriously thick, velvety soft, snuggly, and toasty warm robes" adorned with Bloomfield's embroidered likeness, approved by the great man himself.
With New Zealand's election dominating the airwaves, Barratt had added his Jacinda Ardern 'Cindylicious' and Judith Collins 'Judylicious' tees and badges for those of us wanting to wear our political fandom on our chests.
Barrat's robes tell a tale of supporting Kiwi businesses during these challenging times.
"The caricature was designed by Mark from Wellington's Monsta, the robes came from a Palmerston North hotel supplier with surplus stock, and they're embroidered in West Auckland," says Barratt.
He adds that the Bloomfields asked him to pay their robes forward "to someone who deserved something nice to happen to them".
"My proudest moment was gifting a robe on behalf of the Bloomfields and myself to proud local Māori woman, Whaea Rose Greaves. She was subject to a vitriolic, cowardly and heartbreaking racist attack in Ponsonby by one of her near neighbours who said she didn't belong in the neighbourhood.
"I couldn't think of a more deserving person to receive the robe, and it was gifted with kindness and Aroha."
Barratt adds that there is no shortage of beauty in Aotearoa, including people like Dr Bloomfield.
"He's been our guardian angel, and I've made these robes so everyone can get their daily snuggles with Ashley whenever they want."
50 per cent of sale profits go to Dr Bloomfield's favourite charity Oxfam NZ.