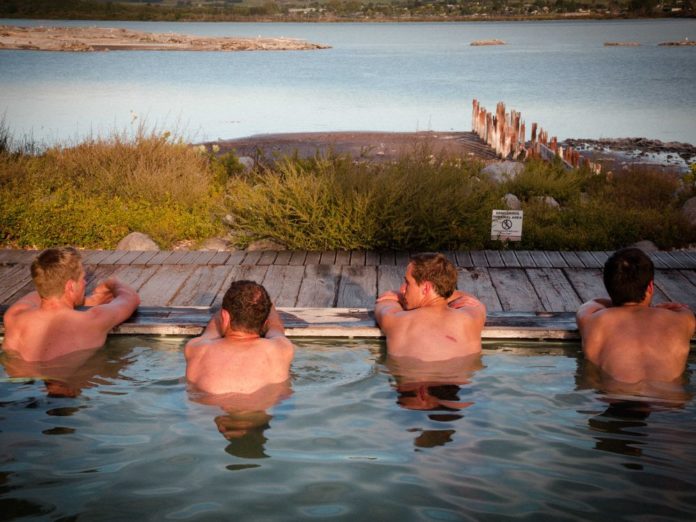 Looking to blow off steam on a romantic weekend getaway? Nowhere is steamier than Rotorua, sweetie!
I've always had a soft spot for Rotorua, but I hadn't been back for years.
As a backpacker when I first landed in New Zealand, I visited and was completely charmed by the bubbling thermals, steam rising from cracks in the pavement and the hippy vibe of chilled out cafes like The Fat Dog.
I remember meeting locals who told me their houses were thermally heated and remained toasty all year round. At 5 o'clock they would leave work and congregate at Kuirau Park to pop their feet in the thermal footbaths and catch up on the news of the day, in steam shrouded surroundings. It felt pretty magical.
15 years on, with an itch to escape post-lockdown Auckland and a new beau to get romantic with, we searched for a perfect getaway and that simmering lakeside city once again came into view. Less than three-hours drive from the big smoke, with a whole heap of experiences on offer; Rotorua is our ideal weekend retreat.
Friday Evening: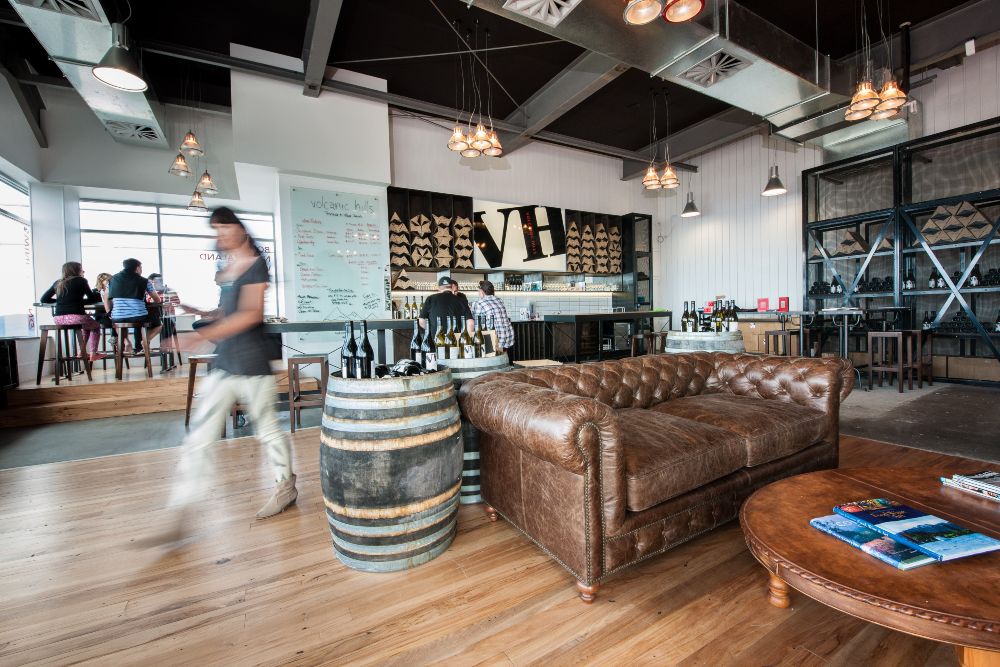 We do the drive down without stopping but on the outskirts of town pull in the region's only winery, Volcanic Hills (volcanichills.co.nz). A wine tasting ticket comes with a Skyline Gondola ride up to their tasting room which enjoys a panoramic view across the lakes and city. Combine that with an excellent dry Pinot Gris and you've got a great way to unwind from your journey.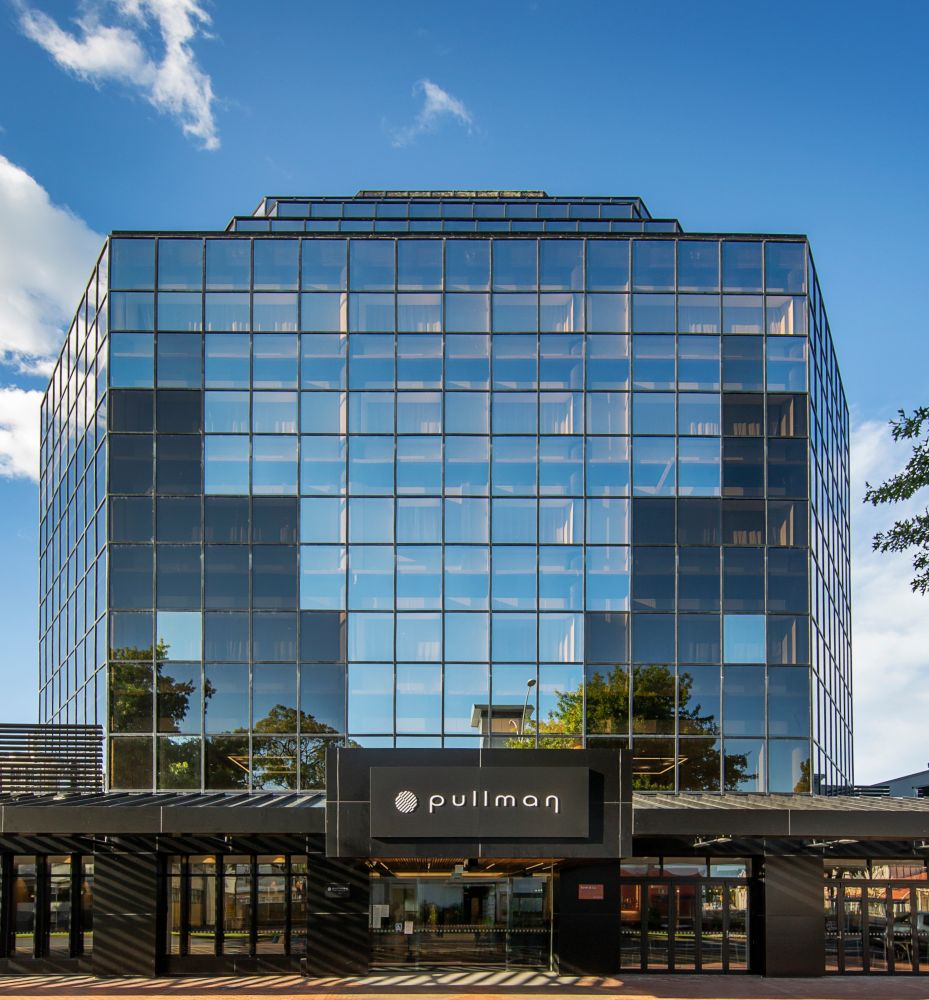 Following this, we check-in at the city's first five-star hotel the Pullman Rotorua (pullmanrotorua.com). In this ideally-located window-wrapped accommodation, all rooms face outward, so everything has a great view of the town and parks below. Our room boasts a super comfy king-size bed with a giant flat screen tv at the foot of it, that can be flipped around when you want to sleep. The hotel's restaurant offers a stunning breakfast, and of course, we bump into other Jaffas at the buffet, because the Pullman's knockout central location makes it the place to stay.
Two minutes' walk from the hotel, lies Rotorua's hospitality-heart and our destination for dinner, Eat Streat. This covered central walkway features a dozen restaurants and bars, a boutique night club and ice cream parlour.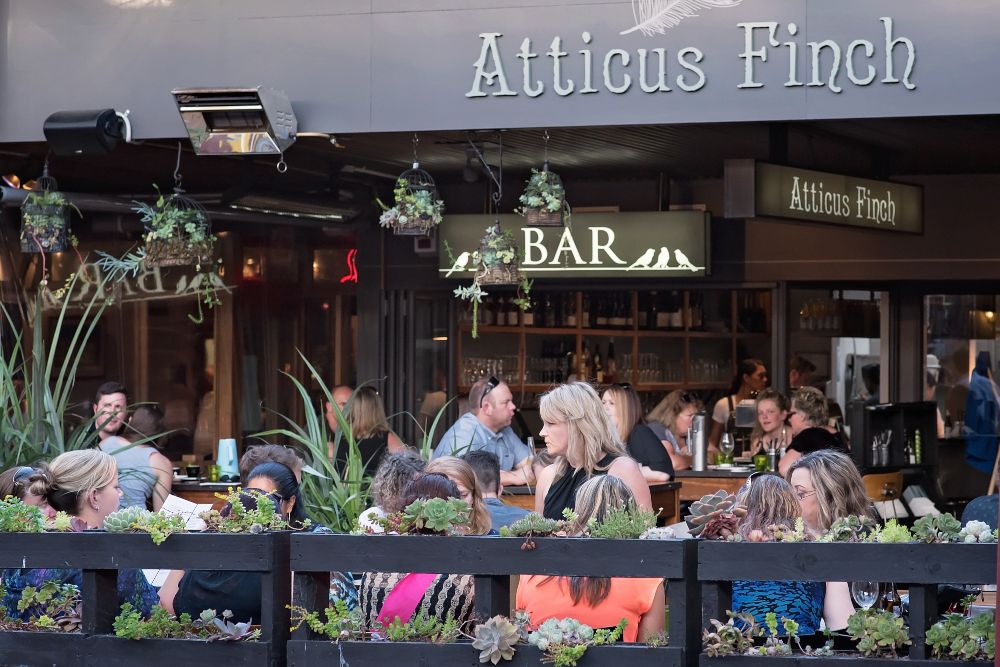 We opt for contemporary Kiwi cuisine at Atticus Finch (atticusfinch.co.nz), a restaurant run by local sisters Cherry and Kay who have put together a cracker of a food and cocktail menu, that can keep up with the best Ponsonby or Parnell has to offer. We're soon consuming Fennel Salt-Crusted Pork Belly and Mexican Pulled Jackfruit while sipping on Harper Lee and Passion of the Finch cocktails. The food and drinks are great, but it's the super gay-friendly wait staff that sets Atticus Finch apart. You get the feeling they really enjoy their jobs!
Saturday: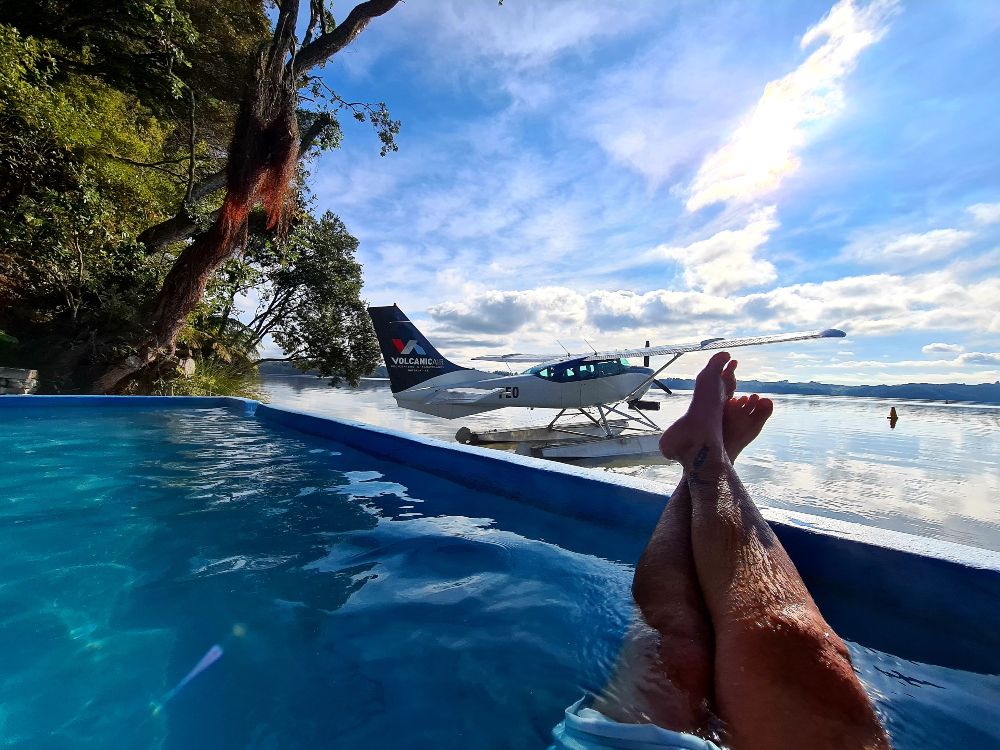 The next morning we are off to the Lakefront jetty to board a Volcanic Air flight (volcanicair.co.nz). We are hopping on our first floatplane ride; just us, another couple and a very friendly pilot. Floatplanes are an awesome experience as there is nothing quite like taking off and landing on water. After circling and taking in the views of Lake Rotorua, Mokoia Island and Lake Rotoiti, we descend into Manupirua Bay to pay a visit to the secluded thermal hot pools. It's quiet enough to secure a hot pool to yourself and our pilot lets us soak for over an hour before we need to reboard. There's something about those sulphuric waters that leave your body feeling more relaxed and rejuvenated than any spa ever could. I'm floating before I even get back on the plane.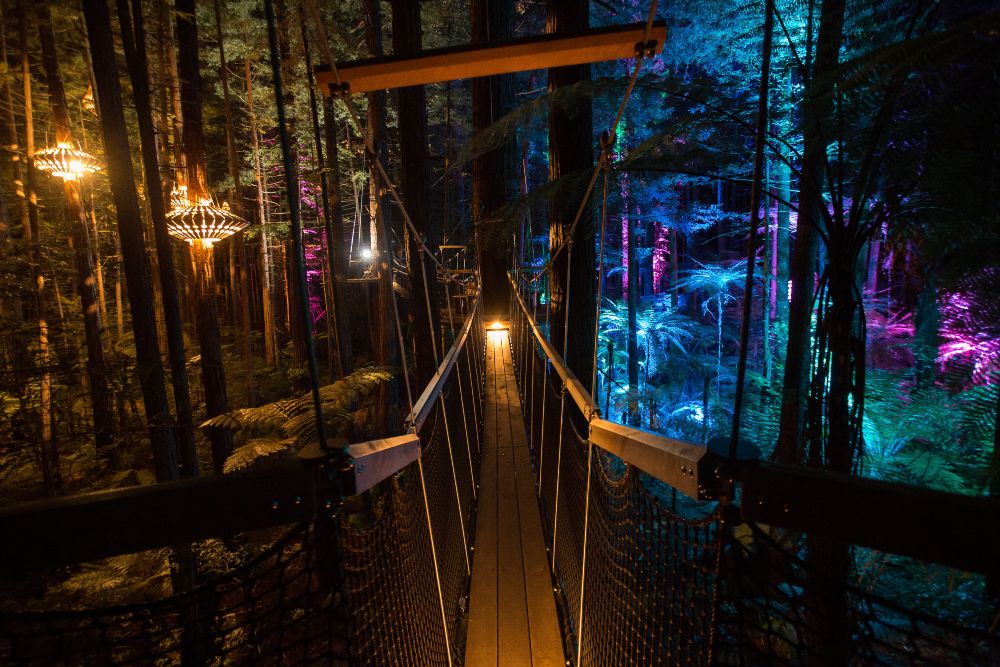 After a snooze, our newly limber bodies are ready for our next adventure, and we drive ten minutes out of the centre to Redwoods Treewalk (treewalk.co.nz). Auckland friends had recommended a visit to 'the world's longest suspended walkway,' and we aim for the evening sunset so can experience the best of both worlds. At dusk, as you climb the suspension bridges joining the almighty redwoods you can see the forest floor and take in how truly high these giants have climbed (20 metres at points)! As the sun saunters away, the Nightlights awake. Put together by David Trubridge Designs, unique lighting brings the darkened branches and leaves to life, as lasers look like firefly-clusters and lanterns lead your way. It's an experience that will bring out your inner-child and have you believing in fairies again.
Sunday: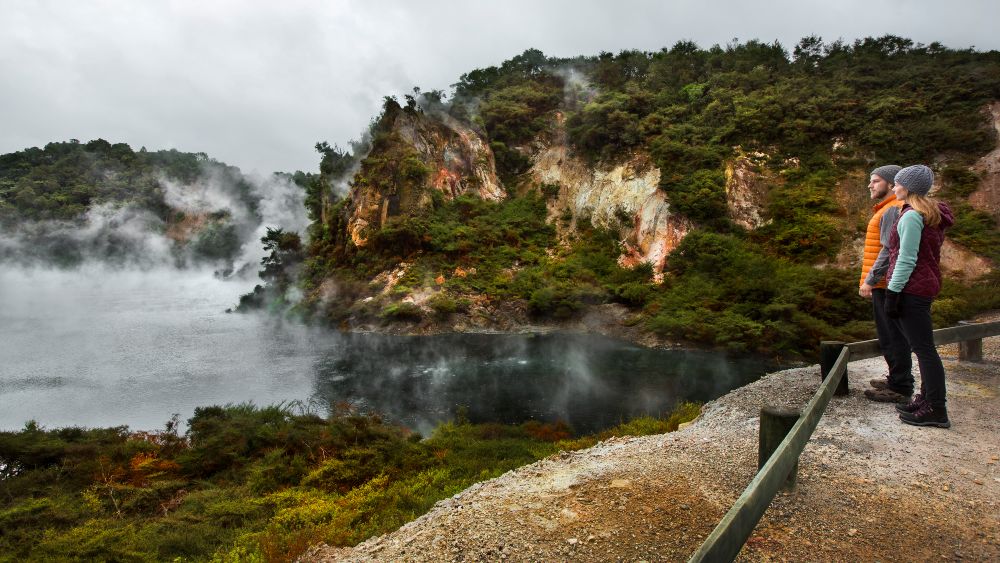 Your final day is always a sad one and we take just a little longer over the Pullman's buffet while regretting having not used the gym. But before our drive back we have an authentic Rotorua experience that you simply can't leave without exploring. Waimangu Volcanic Valley (waimangu.co.nz) is a 20-minute drive south and arguably the most spectacular of the geothermal parks. Hand in hand we take the romantic downhill walk, past hot springs, thermal lakes, craters and pristine native bush. Get your timing right and at the bottom, you can jump on a boat cruise of Lake Rotomahana to see the pink terraces. If you don't fancy the uphill walk back, a courtesy shuttle awaits you!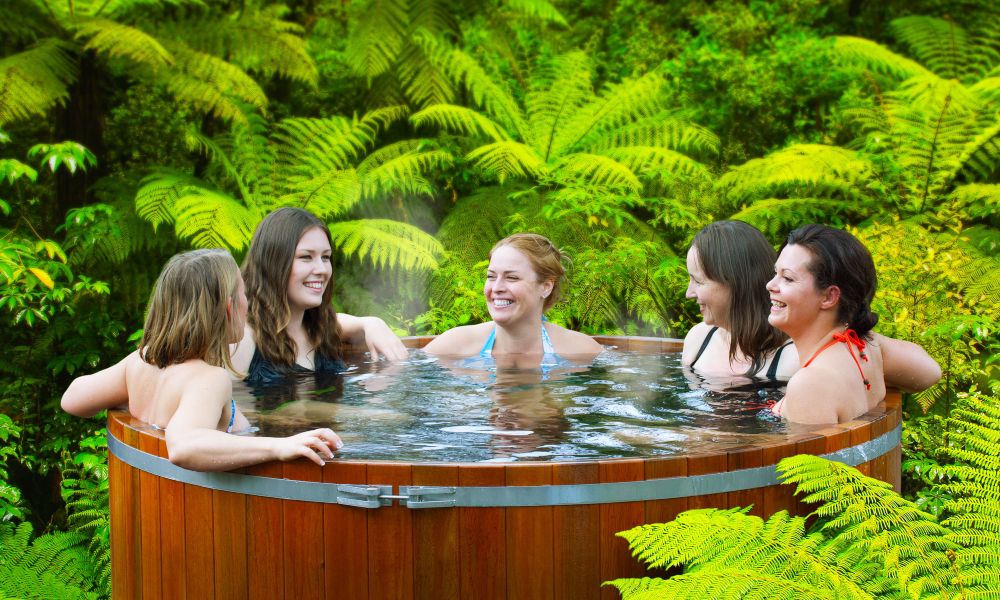 Driving back from Waimangu, we feel we deserve one last treat so stop at Secret Spot Hot Tubs (secretspot.nz) on the edge of Whakarewarewa Forest. Being located in the Waipa Valley, a mountain biker mecca, Secret Spot offers those with tired bruised legs and bums, the chance to soak in fern surrounded cedar hot tubs. While you're in there, you can enjoy a drink from their extensive menu of boutique local suppliers; and as I sip on my glass of Volcanic Hills mulled rosé, I decide I won't be leaving it as long to reacquaint myself with the magic of Rotorua again.
Express visited Rotorua as the guests of Destination Rotorua. For more information on Rotorua and the activities and experiences in this article visit rotoruanz.com