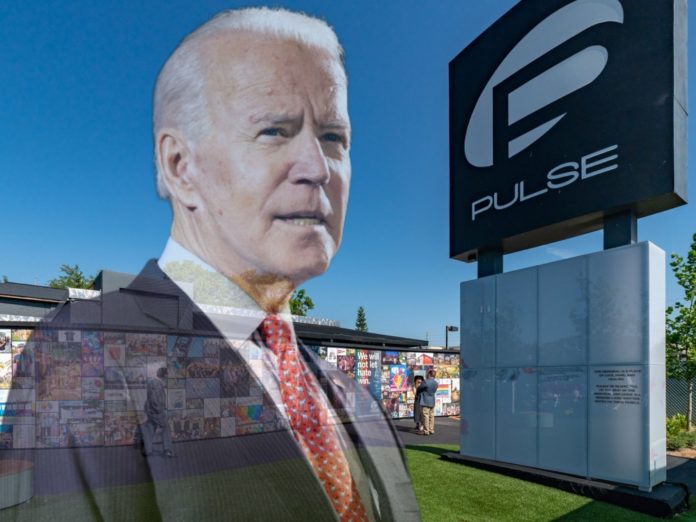 U.S President Joe Biden has promised to sign a new bill officially designating the Pulse Nightclub as a national memorial marking five years since the horrific attack.
The Pulse nightclub shooting, which remains the deadliest attack on the LGBTQ+ community in American history, left 49 dead and 53 others wounded.
In a statement released on Saturday (12 June 2021), Joe Biden explained how the Pulse nightclub was "a place of acceptance and joy" for Orlando's rainbow community, however, since the events of 12 June 2016, Pulse has turned into "a place of unspeakable pain and loss" as those celebrating a Latin night were brutally murdered.
"Over the years, I have stayed in touch with families of the victims and with the survivors who have turned their pain into purpose, and who remind us that we must do more than remember victims of gun violence and all of the survivors, family members, and friends left behind; we must act," Biden explained in his statement.
"In the coming days, I will sign a bill designating Pulse nightclub as a national memorial, enshrining in law what has been true since that terrible day five years ago: Pulse Nightclub is hallowed ground."
"There is more we must do to address the public health epidemic of gun violence in all of its forms", noting that such acts of brutality occur every day but rarely make national headlines," Biden adds.
"It is long past time we close the loopholes that allow gun buyers to bypass background checks in this country, and the Senate should start by passing the three House-passed bills which would do exactly that."
The president has also called for assault weapons and "high capacity magazines" to be outlawed in the United States and says "extreme risk protection orders" (also known as "red flag" laws) should be established, along with gun manufacturers being liable and losing their "immunity from liability."
"We must also acknowledge gun violence's particular impact on LGBTQ+ communities across our nation. We must drive out hate and inequities that contribute to the epidemic of violence and murder against transgender women – especially transgender women of colour."
"We must create a world in which our LGBTQ+ young people are loved, accepted and feel safe in living their truth. And the Senate must swiftly pass the Equality Act, legislation that will ensure LGBTQ+ Americans finally have equal protection under the law."
"In the memory of all of those lost at the Pulse nightclub five years ago, let us continue the work to be a nation at our best – one that recognises and protects the dignity and safety of every American."
The bill that will designate the Pulse nightclub as a national memorial site has already been passed through the House of Representative and the Senate.