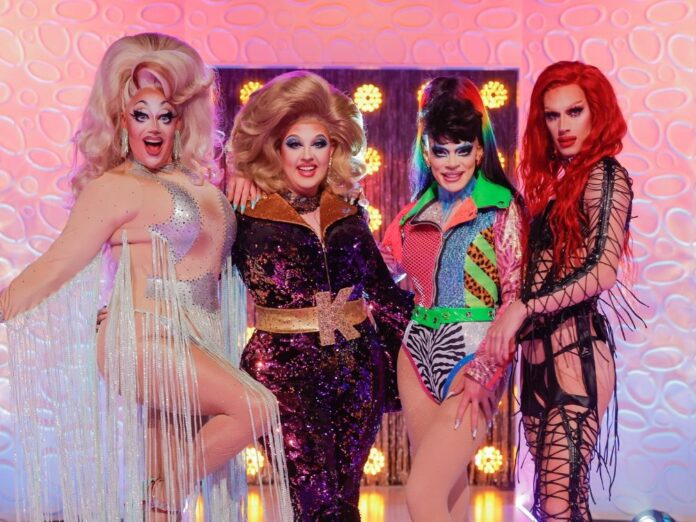 Kiwi queen Kita Mean has won the first season of RuPaul's Drag Race Down Under!
After flying under the radar for the first few episodes, Kita Mean showed exponential growth and enthusiasm for the competition as she flew the flag for Aotearoa after fellow NZ contestants Anita Wigl'it and Elektra Shock were eliminated.
Her fellow finalists had all been tarred with controversy at various points in the competition helping to ensure Kita's victory.
In the show's fifth episode it was revealed that contestant Scarlett Adams had performed in blackface multiple times during her drag career.
"I'm sure there are people who would want me to cancel you, right here right now," Ru stated after giving Scarlett a chance to explain her actions. Ru however decided to keep Scarlett on the show saying she hoped it would"be a lesson in humility and accountability. I pray all of us can learn and grow from our mistakes."
Scarlett was not the only queen accused of racism, early frontrunner Karen From Finance also came under criticism after pictures of her with a large tattoo of a golliwog doll surfaced on social media.
"I made the uninformed, ignorant and regrettable decision to have one of these dolls tattooed. In the years that followed … I realised how irresponsible and stupid I had been so I disposed of the dolls to landfill and had my tattoo covered," Karen stated on Twitter before the show aired.
Popular Melbourne-based drag queen Art Simone was returned to the show without explanation after being eliminated in episode two which also drew the ire of the show's fans.
Kita Mean's charisma, uniqueness, nerve and talent not to mention charm, drive and positivity made her the clear choice for the win!
express wishes Kita a huge condragulations!
The cast of Drag Race Down Under will tour Auckland and Wellington at the beginning of October. For more information and tickets click here.