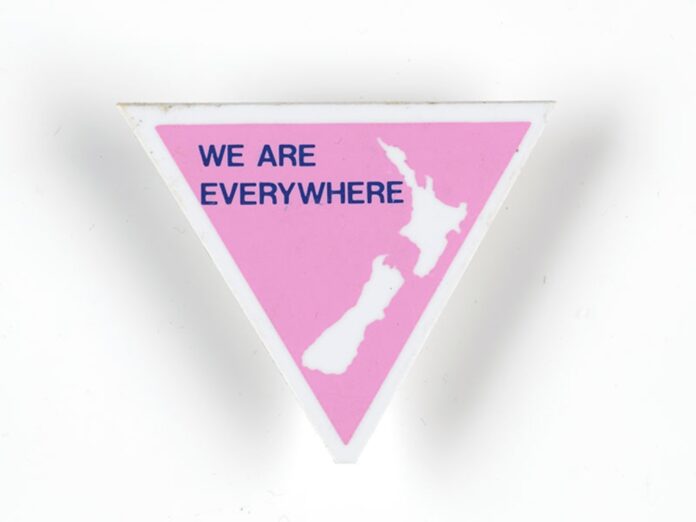 On the 50th anniversary of the birth of NZ's Gay Liberation Front, Gareth Watkins highlights April dates that made a difference to Aotearoa's LGBTQ+ community.
11 April 1972
This month marks the 50th anniversary of the first Gay Liberation Front action – a Gay Day held in Auckland. Historian Will Hansen writes "Activists led by Ngahuia Te Awekotuku gathered under Albert Park's statue of Queen Victoria, chanting 'Will Victorian morality ever die?' while onlookers jeered." Protesting under the Queen was significant, as it was through British colonisation and the adoption of the British legal system in 1840 that homophobic laws were subsequently enacted in New Zealand. While there had been earlier public meetings to advocate for homosexual law reform, the Gay Day event was one of the first occasions when rainbow activists took to the streets to demand liberation. The Gay Day was reported on the television news, which prompted nineteen-year-old Chris Carter to publicly come out. Carter would later go on to become New Zealand's first openly gay male Member of Parliament in 1993. Carter reflected that the Gay Day "was the catalyst that got everything out into the open."
18 April 1995
The NZ.com website was established. The site, run by Akiko International, offered a variety of professional services for the internet, which was still in its infancy (the first website in the world was only created in 1991). Akiko was set up by Michael Witbrock, an expatriate New Zealander and "an ex Dunedin queer activist." Shortly after starting, it began offering "a substantial amount of free space to place information about the gay and lesbian community." At the time, website hosting was relatively expensive and so NZ.com's generous offer opened the door for many rainbow organisations to have their first online presence. The site hosted pages for, among others, the New Zealand AIDS Foundation, Body Positive, Aoraki Lesbian & Gay Group (Timaru), the Federation of Gay Games (New Zealand) and Wellington Lesbian Events. Many of these early rainbow pages can still be accessed via the Internet Archive, search: nz.com/NZ/Queer.
17 April 2013
The Marriage (Definition of Marriage) Amendment Bill passed its final reading in Parliament, granting same-sex couples the right to marry. While MP Louisa Wall's legislation didn't gain unanimous support (77 ayes/44 noes), it was more accepted than the civil union legislation in 2004 (65 ayes/55 noes), and the earlier homosexual law reform in 1986 which only passed by four votes (49/44). One of the major opponents of homosexual law reform was National MP John Banks who told Parliament at the time "This day will be remembered as a sad and sickening day." However by 2013 his views had changed significantly and he voted in favour of same-sex marriage: "If I knew then what I have since learnt, I would have acted differently. I see this as a debate more about human rights, predicated on the basis that we are all entitled to live our lives to the fullest extent of human happiness while respecting the rights and beliefs of others." Speaking just before Banks, Labour MP Maryan Street said "We leave this world to others, especially our young people. Let's make it a better, fairer, kinder place than we found it."
18 April 2017
A public vigil was held outside of the Embassy of the Russian Federation in Wellington. It was sparked by graphic reports of abductions, torture and killings in Chechnya (a republic of Russia) of primarily gay and bisexual men, and those perceived to be. Green Party MP Jan Logie told the gathering, "We know that silence is a form of death, and without speaking up we are in some ways allowing that violence to happen." An embassy official came out from the compound and began filming participants while encouraging, "more picture please, you are very beautiful people." Police were then called on the group. Later, another official (mis)informed the vigil that "there is no situation in Chechnya." For the record – in 2021 a Council of Europe report described the "state-sponsored attacks carried out against LGBTI people in Chechnya in 2017" as "the single most egregious example of violence against LGBTI people in Europe that has occurred in decades."