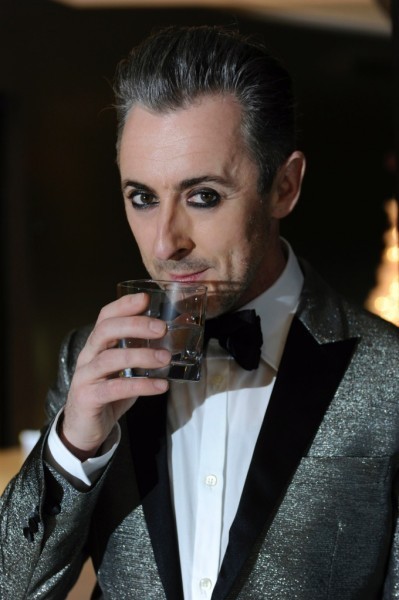 Acclaimed actor Alan Cumming speaks to Levi Joule about his new memoir, his tough childhood, the upcoming UK general election and hopes of independence for his homeland.
Alan Cumming certainly lives a life more exciting than most. When we spoke on the phone the 50 year old had just wrapped up his third stint on Broadway show Cabaret, was filming hit TV show The Good Wife and was just about to "play favourites" with Kim Hill on Radio New Zealand. Cumming will be in NZ this month for the Auckland Writers Festival where he will talk about his recently published memoir Not my Father's Son.
Cumming is openly bisexual. However the topic is not mentioned in Not My Father's Son and Cumming seemed surprised by the observation of its absence. "The book is not about my sexuality," he says quickly ending the line of questioning. He has been with his partner Grant Shaffer since 2007. His first marriage to British television actress Hilary Lyon lasted from 1985 to 1993. But it is Cumming's relationship with his father and the abuse he suffered at his hands, that he chooses to focus his book on.
Cumming says that his childhood torment was not originally the reason he wrote the book. He wanted to tell the story of the dramatic events of the summer of 2010 when he filmed an episode of Who do you think you are? – in which it was revealed his grandfather shot himself playing a game of Russian roulette, solving a family mystery of over seven decades.
Alan's Father, Alex Cumming certainly looms large throughout much of the memoir. In the book, he details the shocking and cruel ways in which his father would treat his family. "My father was a very violent and psychotic man. He was very violent towards a lot of people." Cumming says he hopes the book will help others who may have experienced similar torment.
There were moments of hesitation however, particularly in relation to how his Mum and Brother would deal with the exposure. "I was slightly nervous about it because I knew the sort of publicity it could get would be intense." Ultimately he says that it was a, "really positive thing to do for myself and my mum and my brother… It's been an amazing thing for them to see the warmth and the response they have got from strangers and people they know saying how amazing it is that we've turned out to be such a strong family."
Cumming went through his childhood hoping that perhaps his parents would separate and that he could live a different life with just his Mum. It wasn't until Cumming was in his twenties that the divorce finally came, which he was surprisingly upset by. "The reason I was so upset was because I thought they had reached an amicable place in later life. After years of waiting, Alan says that he "was shocked they had finally done it."
He says that ultimately he had to forgive his father for the childhood of abuse he suffered at his hands. "I think you have to. I don't think anybody should go through life hanging on to negativity."
After his gruelling childhood, Cumming left his small Scottish town for the bright lights of Glasgow where he pursued a career in acting. Cumming doesn't offer much of an explanation as to why he chose acting saying simply that, "it was something I was good at."
'Good' is an understatement. With a career spanning more than four decades, the Tony Award winning actor has just wrapped up his third stint doing the critically acclaimed Cabaret show on Broadway and has recently been nominated for Emmy and Golden Globe awards for his portrayal of political operative Eli Gold on the Ridley Scott produced The Good Wife. Cumming says that there is little similarity between him and the character he plays on The Good Wife other than the fact, "we are both left wing!"
Cumming was an outspoken supporter of the Yes campaign in last year's Scottish referendum campaign. He says he was "devastated" when the No vote narrowly won. "My own countryman once more doffed their caps to Westminster, when they had the chance to create their own destiny."
Despite the disappointment with his fellow Scots, he thinks the voters were ultimately tricked by the last minute offer of 'Devolution Max from Westminster, which offered Scotland greater ruling autonomy, if they voted to remain part of the United Kingdom. "I really felt so sad and angry that the three main parties made this pledge which they wouldn't follow through on. And of course they didn't. The promises made by the Westminster parties were not real, they were just a bribe."
Cumming is hopeful though that there will be another referendum for Scotland as a result of the Great Britain's general election this month. "I really do think it's on its way. The thing that is really exciting for me right now is that the Scottish National Party will hold the balance of power." With that, Cumming believes a new independence referendum, "will obviously be a bargaining point," in any coalition government negotiations.
Not my Father's Son is out now. 
An Evening with Alan Cumming takes over the Aotea Centre's ASB Theatre from 7.15pm on Friday 15 May. For more information visit www.writersfestival.co.nz.
Article | Levi Joule. Photos | Francis Hills.