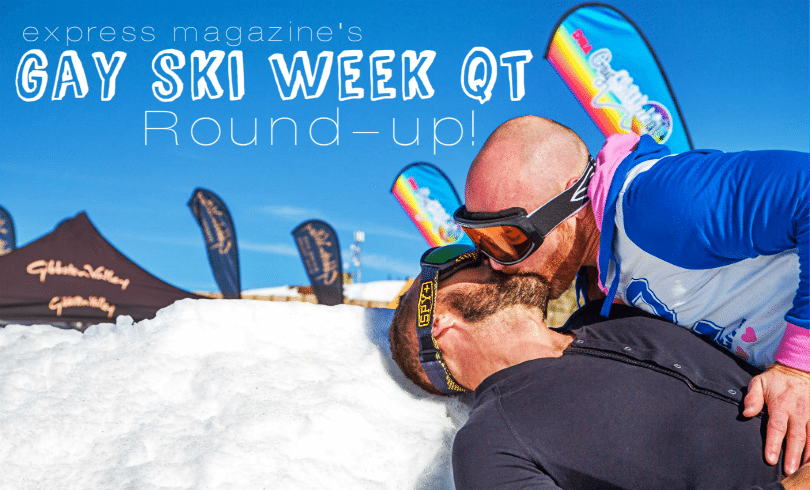 Amy Jane Bedwell sums up the Gay Ski Week QT experience with the help of a few notable helpers, and tells you why you absolutely need to experience it for yourself!
As a frequent party-goer and active member of the rainbow community, I had high expectations for the week-long queer quasi-festival happening in Queenstown. I I worried about my liver and how much my feet might hurt. I wondered if I would have the stamina to be out-and-about in a highly concentrated space for an entire week.
In hindsight, I could've very happily done another week.
Gay Ski Week QT is the culmination of expert events management, careful planning, and community spirit. Guests turned up in groups of twelve or more, while others arrived solo knowing that it wouldn't be long before they made friends.
For me, that was the highlight of the event. There is a real sense of inclusion at Gay Ski Week QT, and no matter who you are, the environment is welcoming and warm.
A noticeable increase in female patrons was a top notch improvement this year; a natural consequent of the fact that the event seems to have absolutely blown up in terms of popularity. Organiser Sally Whitewoods told express that Gay Ski Week 2016 has been "the biggest year yet!"
No less than three hundred people turned up to the Finale Party, not to mention a tidy two hundred appearing for the Caluzzi Cabaret Night, plus fourteen teams of six or less at the LYC Trivia Night. Every night seemed to usher in new faces eager to jump on the Gay Ski Week bandwagon, as well as returning guests – some of which have been with the event since it's inception five years ago.
A large constituent of guests were from Australia, which Family Bar's Miss Ribena guesstimates make up about 80% of Gay Ski Week. However, many Kiwi's also travelled from their respective homes, and more and more Queenstown residents came out of the woodwork when they witnessed just how much fun we were having at every single event.
"Gay Ski Week has been completely off the hook!" says Miss Ribena in an interview with express. "It just keeps getting bigger and better; this year it was like glitter bombs going off everywhere."
A season veteran of the event, Ribena says that Gay Ski Week 2016 was "the best Gay Ski Week ever!"
In terms of events, there was an eclectic mix of different opportunities which catered to a whole range of people. From lush and sophisticated evenings like the Cabaret Night which called for a dip into your pocket, to a multitude of free events such as the Masquerade Party and Fluro Party – no one missed out. Non-drinkers or people who weren't sold on a week of dancing to spectacular music (very few, I am sure) could enjoy week-day events like the Quiz and Karaoke, not to mention the opportunity to ski with likeminded inderviduals every single day of the week.
Gay Ski Week Ambassador and MKR Australia heart-throb Jordan Bruno says that he could really notice the difference between Gay Ski Week and events like the Sydney Gay and Lesbian Mardi Gras.
"It's not so much just parties and love making – Gay Ski Week QT is so community based, with the same core of people at each event. It's like a bonding retreat for the gay community."
Jordan describes his experience at Gay Ski Week QT as "amazing, and really memorable – even if I can't remember everything!"
When I asked Jordan how he thought GSWQT compared to Mardi Gras he was quick to say: "I hate comparing one with the other and saying which one is better but… Yeah, Gay Ski Week Queenstown is the best!"
All in all, to say that attending Gay Ski Week QT has been a pleasure would be a vast understatement. Any worries I or other single travellers had were alleviated from the first moment we walked into one of the amazing events and were greeted with such an array of rainbow goodness.
If you missed out on coming along this year, don't suffer the #fomo again! Get your butt down to Queenstown this time next year and have the time of your life!