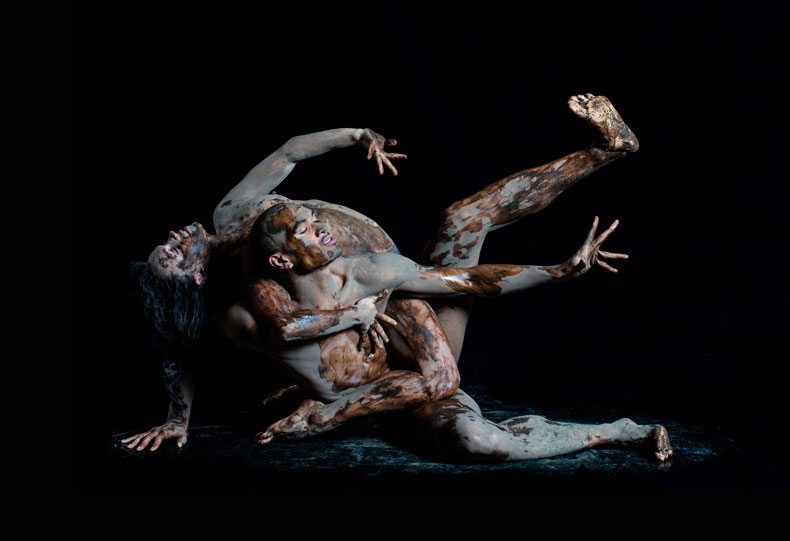 What is the premise of Insolent River: A Tango?
Insolent River: A Tango is a cosmic romance, an elemental duet exploring desire in nature and in human life. First staged in Wellington in 1985, with dancers Michael Parmenter and Maari Gray Insolent River caused a sensation due to its strange combination of the mythic and the everyday, drama and comedy and the intensity of the performances.
What the audience witnesses on stage are extreme physical and emotional challenges truly experienced by the dancers rather than roles that the dancers are playing. The choreographer has set up a series of physical and choreographic challenges that the dancers undergo, and which communicate directly to the audience who both surround and are very close to the dancers.
How does this work differ from your other works?
Insolent River is both like, and unlike, other Parmenter choreographies. It announces many themes and choreographic approaches that continue to haunt my dance work to this day, but in Insolent River, these are presented in a very stark and direct and thus in an eminently accessible manner. Insolent River is very raw and reveals dancers, who we normally think of as rather specially endowed special of humans, at their most vulnerable. In this sense it is comparable to my solo work, A Long Undressing.
What can we expect from Tempo as a whole?
Tempo has great diversity of dance styles and choreographic voices. Rodney Bell, star of many Touch Compass Dance Company productions will present his solo Meremere and Malia's Johnston's celebrated work Miniatures will be presented by students form the New Zealand School of Dance. Queer icon Taane Mete, founder of Okareka Dance Company, will premiere a new solo Manawa as part of Taumata – Four New Works, the closing production of Tempo Festival
Why have you decided to create a queer Tango group?
I started dancing tango about six years ago, and much of my study of tango took place in Paris where I was studying. Very early on, I became interested in the queer tango movement in Europe. Tango is a dance form that is at once very anchored in a patriarchal ethos with highly demarcated gender roles, and yet, at the same time, open to a queering that enhances the richness of the dance form. In the early years of tango, men and women learned tango separately: women at home form their sisters and others, and men learned to dance tango with other men in the street, first by learning the follower's role and then switching to that of leader. There are numerous images from the early 20th century of men dancing tango together. With the loosening of gender roles throughout the century, men and women learned tango together and thus men abandoned the learning of the follower's role. Queer tango, in that it plays with the multiple options of role in tango: not only men and women dancing with each other, but with women and men dancing together – women in the leader's role.
Why do you think your show will appeal to queer audiences?
Insolent River: A Tango will appeal to queer audiences because it is innovative theatre that challenges prevailing genre distinctions. Insolent River blends popular culture and avant-garde theatre traditions in a way that was unique during the years of its creation and is still astonishing today. Insolent River's analysis of desire, examines and critiques heterosexual role play in popular dance culture, represented by the archetypal pair of Fred Astaire and Ginger Rogers. The image of tango, for the reasons outlined in the previous discussion, deals with traditional sexual roles yet is at the same time ripe for a queer reading.
Insolent River: A Tango is showing right now until 6 October at Q Theatre. Tickets can be purchased here.