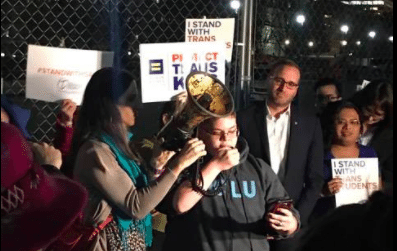 A draft document obtained by Reuters indicates that President Trump may reverse former President Obama's guidance on allowing trans students to use bathrooms that correspond to their gender identity, as opposed to biological sex.
The draft cites legal issues in regards to how the term "sex" is interpreted by courts, with the US Court of Appeals for the Fourth Circuit saying it is ambiguous, whereas a Texan court finding that it means biological sex.
Press Secretary Sean Spicer tells Reuters that the White House is intervening because of a pending Supreme Court case of Gavin Grimm v Gloucester County School Board. The case involves Grimm, a trans boy, who is being denied access to the boys' bathroom at his high school.
In response, people are tweeting messages of support with the hashtag #standwithgavin.
Ah I am with you in spirit. #StandwithGavin https://t.co/FomJICKyxh

— Laverne Cox (@Lavernecox) February 22, 2017
Protesters have already gathered at the White House to protest the potential reversal, and to garner support for trans kids.
No matter what happens, the Supreme Court cannot defeat a community so full love! #GavinGrimm speaking @whitehouse to #ProtectTransKids pic.twitter.com/46Lnkw9fvn

— The Task Force (@TheTaskForce) February 22, 2017
Hundreds out at the @whitehouse right now to #protecttranskids and #StandWithGavin pic.twitter.com/cpFW9UTxFJ

— Alexis Goldstein (@alexisgoldstein) February 22, 2017