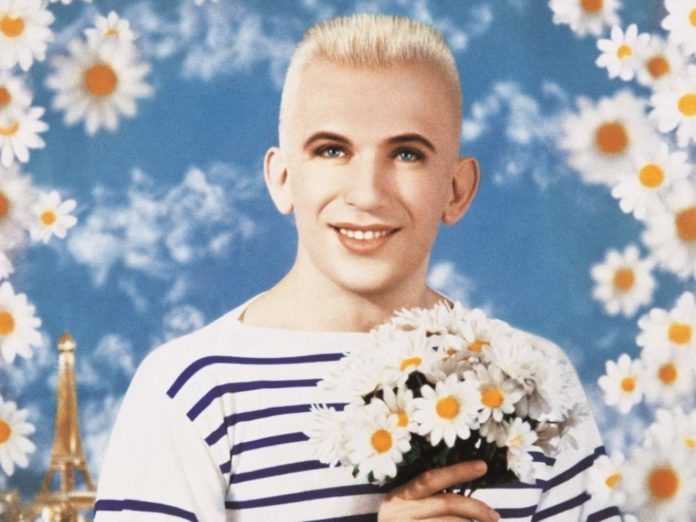 On Thursday 20 August, Jean Paul Gaultier: Freak & Chic – a documentary that takes an intimate behind the scenes look at the outrageous retrospective fashion musical the designer created – debuts on The Rialto Channel. In celebration, Oliver Hall talks to the legendary fashion designer about his inspirations, career highlights and who could play him on the big screen.
Jean Paul Gaultier: Freak & Chic highlights that staging his 'Fashion Freak Show' in 2018 was a full-circle moment for the designer. It was his grandmother who had first inspired his creativity by taking him to Paris' renowned Folies Bergère Theatre, which would now house this innovative retrospect show.
"This show is the story of my life, things I have experienced, seen and loved. And also stories that I have never told before!" he says of the show which includes some of his most iconic designs, a tribute to his partner Francis Menuge (who passed away from AIDS-related illness in 1990) and comments on plastic surgery and social media.
Gaultier's fascination with fashion began in early childhood. It was his teddy bear 'Nana' who was the first to be adorned with his early designs. Gaultier made Nana 'cone-shaped breasts' out of newsprint, he would later repeat this design more famously for Madonna's Blonde Ambition tour.
His mother too would inspire his later designs when she dressed him in sailor-striped sweaters. "They go with everything, never go out of style, and probably never will," he told Elle in 2011, going on to explain how his designs evolved as he entered his teens.
"As I child, I sketched two collections a year, for fun… I made a lot of sketches that, in hindsight, I now find clumsy and sometimes crude. I was full of ideas but no real style or technique. I soon realized that there is a world of difference between a silhouette drawn on paper and the reality of a garment on a three-dimensional body."
Talking to express, he initially dodges our first question about career highlights, explaining it is, "too difficult to choose as my career is so long," but ends up settling on his first ready to wear show in 1976, his first couture show twenty years later and the Fashion Freak Show that has inspired his Freak & Chic documentary.
Within five years of his debut, Gaultier was already developing a reputation and was dubbed fashion's 'enfant terrible' by French media for his daring style.
"My designs corresponded to the desires of the time, and I never deliberately tried to shock," he defends with a cheeky glint in his eye.
A year later he opened his design house, and by 1985 was cursing a stir in men's fashion spicing up runways, with skirts, kilts and backless t-shirts.
Gaultier's aura had transcended that of a designer. In 1988 he released his first song 'How To Do That' onto the dance charts and from 1993 he shocked-British audiences by co-presenting the outrageous late-night television show Eurotrash. Highlights that still be found on Youtube include Gaultier dressing in drag as Princess Diana, interviewing Naomi Campbell after she had been fired by her management and diving into the alternative sex lives of households all over Europe; well before the notion of reality-TV has been conceived.
In 1990 his first female fragrance Classique was released, followed by his Le Male cologne five years later (both remain best-sellers to this day).
The diversity of his projects highlighted Gaultier's work ethic as opposed to a lack of focus, and his fashion remained at the forefront.
For the 1997 Sci-fi film The Fifth Element he produced over a thousand costumes and that same year added a haute couture line to his label, as well as his male and female ready to wear lines. Until 2014 he produced collections for each, every year, as well as finding the time to dabble in side-projects for brands as diverse as Hermes and Diet Coke.
Spring/Summer 2015 served as his final ready-to-wear show, announcing at 64 years old, he would now focus solely on haute couture.
Our conversation turns to how political and social issues affect a designer's work – something that sees as an 'obligation'.
"We as designers have an obligation to follow what is happening in society and to show it through our design," he tells us.
The key social issues Gaultier has pursued in his work have been diversity and the importance of recycling in a junk-filled world.
"There were always girls of different shapes and race on my catwalk," he proclaims proudly, as he recalls his shows were some of the first to shows models with piercings and tattoos, as well as older men and fuller-figured women. "I haven't done it consciously it was just that I wanted to reflect the society as it was and not have only Swedish blond haute couture models."
"I think that recycling is a great challenge at the moment, but I have always done it. I think that there is too much of everything. There are more clothes than people to wear them. In the moment of crises like today instead of recycling we are producing even more," he says with sadness.
In late 2019 Gaultier announced his Spring/Summer 2020 show would be his last show and fittingly most of the garments with made with upcycled materials from his past archives.
Marking his fiftieth and final year in the industry, Gaultier turned the show into a funeral. His funeral. Opening with muscle-bound pallbearers carrying a black coffin on to the stage, as supermodels of yesteryear mourned and Boy George sung Amy Winehouse's Back To Black. It is hard to imagine a more fitting final curtain.
With the success of recent biopics on Freddy Mercury and Elton John, Gaultier's eccentric character and juggernaut career would seem like an obvious next choice. But who would play the great man?
Perhaps Call Me By Your Name's Timothee Chalamet could bring the required level of mischief to the sailor stripes? Gaultier is tight-lipped, surmising only, that, "it would have to be someone very handsome!"
Jean Paul Gaultier: Freak & Chic will debut on the Rialto Channel on Thursday 20 August as part of their Fashion's Front Row season presented by Lorraine Downes. Learn more at rialtochannel.co.nz