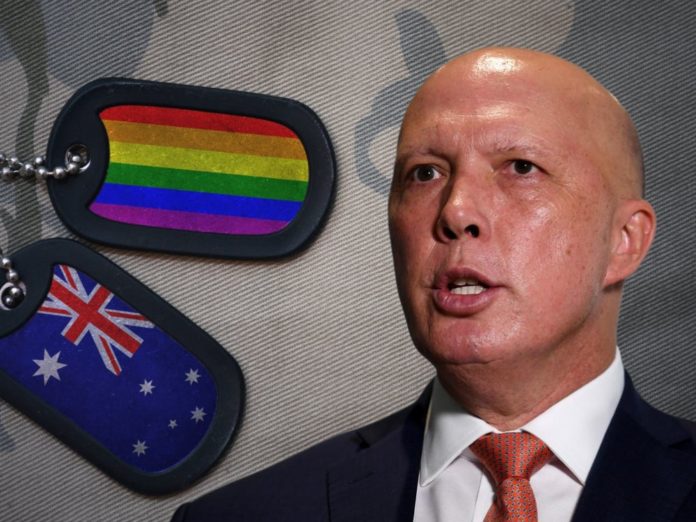 Australian Defence staff are now banned from celebrating International Day Against Homophobia, Biphobia, Intersexism and Transphobia.
Australia's Defence Minister has banned Defence personnel from hosting events to celebrate International Day Against Homophobia, Biphobia, Intersexism and Transphobia.
Mr Dutton ordered his Defence Force Chief Angus Campbell and Secretary Greg Moriarty to issue a note banning events with "particular clothes in celebration." The note was sent out in the wake of defence personal marking IDAHOBIT last week, which they had previously been encouraged to do.
The Defence Minister's instructions read "Defence represents the people of Australia and must at all times be focused on our primary mission to protect Australia's national security interests. We must not be putting effort into matters that distract from this."
"To meet these important aims, changing language protocols and those events such as morning teas where personnel are encouraged to wear particular clothes in celebration … are not required and should cease."
Mr Dutton from the hard right of the ruling Liberal Party has long been an opponent of LGBTIQ+ rights.
Labor Senator Kristina Keneally slammed the defence Minister calling him a "warmonger".
"The Australian Defence Forces personnel are drawn from the Australian community, which is diverse," she said. "One of the great things about Australia is that we celebrate our multiculturalism and diversity, and I applauded the ADF for doing so."
"I will say this, Peter Dutton is a warmonger. He is a warmonger, and whether it comes to picking fights with countries in our region, pitching culture war fights, Peter Dutton likes to be a warmonger, and frankly, he is the wrong person for the defence minister portfolio." Senator Keneally said.