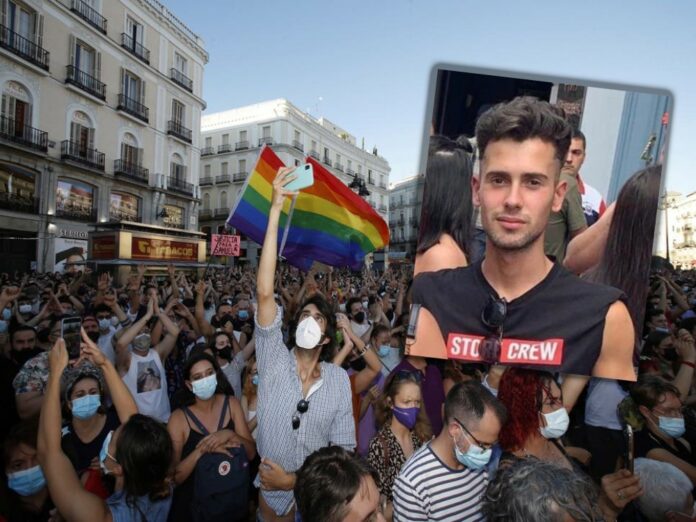 Three suspects have been arrested by Spain's National Police Force following the death of Samuel Luiz, by a homophobic and hate-filled mob of more than a dozen people.
The 24-year-old nursing assistant described as a loving man who always wanted to make people laugh was the victim of a homophobic hate crime outside a nightclub in the busy port town of A Coruña, Galicia in Spain.
According to witnesses of the attack, Luiz was beaten by a group of men who reportedly mistook his video call for him recording them.
Taking place at around 3 am on Saturday the 3rd of July during Pride weekend, Luiz and his friend Lina stood outside a local nightclub and began FaceTiming a friend. A man then approached him saying, "Stop filming you I'll kill you, f****t."
It is reported that before Luiz could reply, the man started to attack him, with Luiz's friend Vanesa who Luiz was video calling watching helplessly as the man beat him: "The man punched him very hard and Luiz began to scream," she recalled.
"I just listened to the blows and Lina shouted: 'Leave him, he's my friend, please leave him!'"
Vanesa adds that some bystanders stepped in to help Luiz during the brawl, managing to push his attackers away.
The man returned, As friend Lina looked for Luiz's mobile phone which he had dropped during the attack by the now 12-strong group who fatally injured him while yelling "disgusting f****t".
Luiz died later that morning in the hospital.
The 3 arrests follow nationwide protests that have swept Spain, condemning the killing and demanding a stop to homophobia and hate crimes.
The Policía Nacional made the announcement of the arrests via Twitter saying:
The suspects, aged between 20 and 25 years old, are the "alleged perpetrators of the violent attack that ended the life of Samuel Luiz".
Police sources told El País that two of the suspects are men while one is a woman, all residents of A Coruña.
Detenidos 3 jóvenes de entre 20 y 25 años, vecinos de A Coruña, como presuntos autores de la agresión violenta que acabó con la vida de Samuel Luiz

La investigación continúa abierta hasta el total esclarecimiento de los hechos. No se descartan más detenciones en próximas horas pic.twitter.com/r8Cs88b1Dz

— Policía Nacional (@policia) July 6, 2021
Policía Nacional has also added that the investigation into the incident remains ongoing and are not ruling out any further arrests.