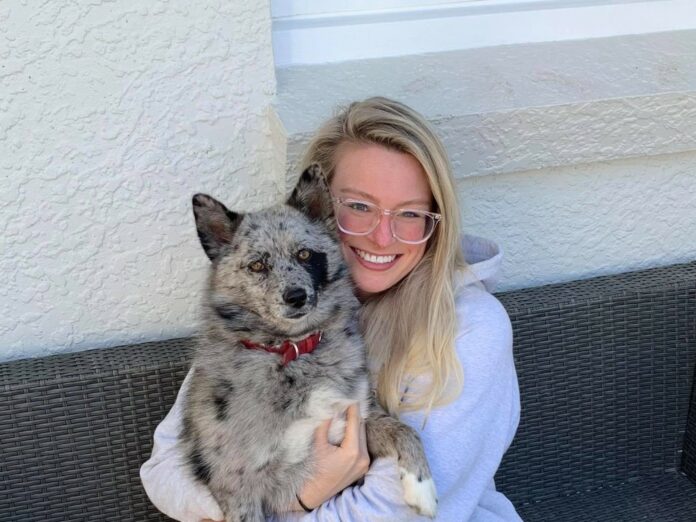 Rainbow Auckland's Treasurer Kate Waltman is locked down with her partner, Linda, flatmates, and pooches. Her mantra for surviving self-isolation is "progress equals happiness."
Tell us about your Level 4 Lockdown. Where are you? Who's in your bubble? And what are you doing to keep your mental health in check?
I'm spending lockdown at home in Te Atatu Peninsula with my partner, Linda, and our two dogs, Pinot and Panda. Our bubble also includes our two flatmates. I'm fortunate to be able to work from home without much difficulty.
To keep my mental health in check I am working on a few goals during Lockdown. I strongly believe that progress equals happiness.
What are your top tips for express readers who are struggling with self-isolation?
Most likely the struggle is stemming from a lack of connection with others. I recommend making a schedule that includes time to connect with different groups you would normally interact with in person. Our Pride at KPMG group (which Kate is the Chair of – Ed.) has made a point to have fun catch-up video calls each week, and my tax team at KPMG meets daily to do the "Stuff Quiz" over a video call.
What is the most positive aspect of self-isolation you've experienced so far?
Quality time. My family is in New York which makes it difficult to connect due to the time difference. Being at home now, I can take breaks to talk to them and structure my schedule in my own way.
What plans do you have between now and the end of lockdown?
The goals I mentioned earlier are learning Chinese and training for the Mt. Cook marathon. Fortunately, I have a great tutor (Linda), and a somewhat talented running partner (Pinot), who is half husky and drags me around like a sled.
What are you missing most about 'normal life'? What will be the first thing that you can't wait to do when regular life resumes?
One of the things I love most about my life in Auckland is the network of wonderful friends within our Rainbow community. While we can continue the work of the Rainbow NZ Charitable Trust, Rainbow Auckland and Pride@KPMG in Lockdown, I miss the personal connection and networking that typically fills my weeks.
Moving forward is there anything you think you will change about your life following self-isolation?
Every experience like this is a great exercise in perspective. I know I'll walk away from this lockdown with a greater appreciation for the time I can spend in the community with the people I care about.