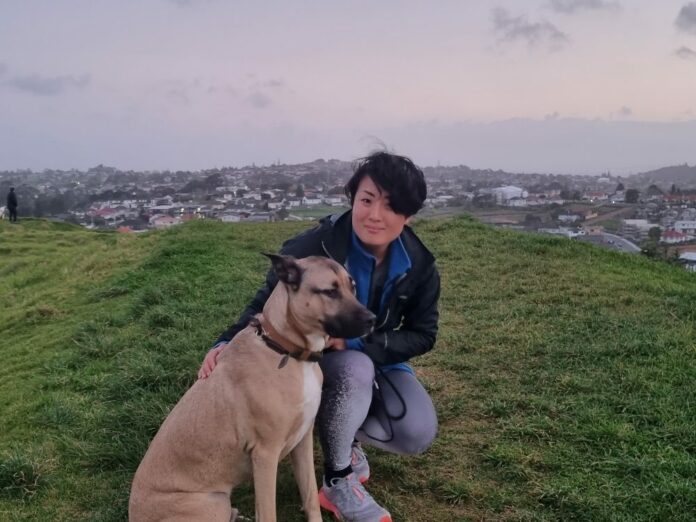 As part of series of Lockdown interviews, express talks to notable community members about their Level 3 experience. Today we talk to Rainbow Auckland President Elena Kim who's in a bubble where animals outnumber humans.
Tell us about your Level 3 Lockdown – where are you and who is in your bubble?
I am in Tāmaki Makaurau locked down with two dogs, two cats, my partner and our home office in the dining room! For me, running has been a super important and simple way to reset mental fatigue, especially as my regular job involves long, intensive days (now more so from the home office). We are fortunate to be near lots of green spaces and maunga nearby to get in a daily run with the dogs.
What are your top tips for express readers who are struggling with self-isolation?
Remind yourself that it won't last forever. Each day can feel like three weeks and that is normal. I was in self-isolation for a time after being at a location of interest and I ended up working too-long hours and exercising obsessively in the lounge because we couldn't leave the house. Since that experience, I am now trying to focus less on being super productive all the time. It's ok not to be productive at every single moment, even if you are "just" at home.
What is the most positive aspect of self-isolation you've experienced so far?
I made myself take up a creative hobby, which will surprise those who know me well. Now I paint average to terrible watercolours fairly regularly. I can be a bit of a perfectionist, and I am pleasantly surprised by how much I've enjoyed taking the space to make art for no reason other than to fill the sketchbook. I would never have made time or space for something like this before lockdown.
What plans do you have between now and the end of lockdown?
I am supposed to be in training for a few trail run events (fingers crossed that they go ahead). I am taking this opportunity to do race day planning and finding creative ways to train within my local area.
The Rainbow Auckland Executive Team has also been busy planning around lockdowns, as a number of our networking mixers have been postponed as a result. We recently hosted an online chat with Chlöe Swarbrick and got some pretty interesting insights about her lockdown experience, projects (in life and at work) and views on important issues facing the Rainbow communities. We are continuing to think creatively about how we can offer networking opportunities around lockdown.
What are you missing most about 'normal life'?
Weekend trail adventures in the bush; being able to plan epic adventures around Aotearoa's lush forests and mountain tracks.
Is there a closing message you would like to share with our gorgeous LGBTI+ community?
Be kind and gentle – especially to yourself. For some members of our Rainbow communities, lockdown could mean being in a situation where they may not be able to express their authentic selves or have their usual support systems in place. Find something that empowers you and gives you strength, and keep this near you in a safe place to refer to from time to time.