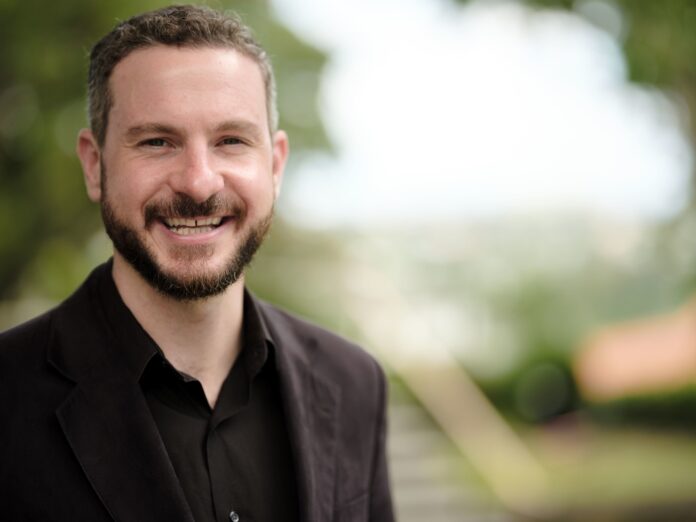 The Auckland Philharmonia Orchestra's (APO) Principal Clarinettist Jonathan Cohen is a third-generation New Orleans Clarinet player and he will be part of the first concert the APO has ever presented as part of the Auckland Pride Festival. He talks to us about this and the APO's upcoming 2022 Season.
What does it mean to you to be part of the APO's first show to ever be presented as part of a Pride Festival?
Growing up in New Orleans in the South of the United States, being gay was not something I was proud of at first. Don't get me wrong – I had the most loving family with gay friends themselves, but it wasn't something I saw modelled around me with kids my own age. And back then, I didn't really grow up seeing gay role models in movies, books, or on tv.
I ended up moving away when I was 15, so I felt more comfortable establishing a new identity in the arts boarding high school where I ended up (and where almost everyone was gay, and those who weren't were "gay by May"). But I think those formative years stuck with me for a long time.
All that to say, it's somewhat shocking for me to think that I'm now going to be featured on the APO's first show presented as part of Pride. It's easy for people my age and younger to take for granted the freedoms and acceptance we have now. But for me, Pride is about gratitude for that accepted way of life I have now, and pride for that part of who I am. I'm incredibly excited to celebrate Pride this way next year, and I can't believe how lucky I am to mix it with my great love of classical music.
What can you tell us about the show and why should every express reader be attending?
Through the hazy and dull lens of lockdown, this concert is definitely a shimmering glimmer of excitement for me. I began working on the music about a month ago, so by the time of the concert, it will be almost 6 months of preparation. I realize my time and energy are not reasons enough to go to a concert… but I hope my excitement to share this music will be!
The Nielsen clarinet concerto is an incredible piece of music, and it doesn't get performed all that often. It's also one of, if not the most, technically demanding pieces written for the clarinet. It was written for a specific clarinet player (Aage Oxenvad) in Denmark in 1928, a man who was known to be… quite extreme in his emotions. So the piece reflects that, ranging from quiet murmurings to violent outbursts. I remember working on this piece when I was studying at Juilliard, and my teacher's only comments were "more, louder, angrier!".
Beyond the clarinet concerto, there's also some great Mozart music on the first half, featuring his Overture to The Abduction from the Seraglio and Symphony No. 38 "Prague". Additionally, there are the Slavonic Dances by Antonin Dvorak, which are personally some of my favourite pieces of music. I hope all Express readers will want to hear these amazing pieces performed by wonderful colleagues in the APO.
The show was announced as part of the APO's 2022 Season. Which shows in the new Season are tickling your fancy and what would you personally recommend as must-sees!?
Is it vain to say that the concert with my piece is a must-see? Beyond that, there are so many great concerts I'm excited about next season! I'm incredibly excited for Victoria Kelly's new Requiem that will be part of the Auckland Arts Festival in March. Victoria told me that she had been thinking about this piece for years, and I can't wait to hear what she writes.
There are also some of my favourite pieces coming up, including Rachmaninov Symphony No. 2 and Tchaikovsky Symphony No. 4 in June, as well as Stravinsky's Firebird Suite in August and Bernstein's Symphony Dances in October.
If you're into opera, you'll LOVE July when we do Verdi's Requiem and his opera Il Trovatore. Both of these will be with our music director Giordano Bellincampi, whose Italian heritage and excellent musicianship will make these concerts absolute must-sees.
If you're into movies, I'm incredibly excited about playing the score along to The Princess Bride. Personally, these are always some of my favourite concerts. I love movies and I find it thrilling to feel like I'm part of the score when we perform them live.
It's been hard having so much of our season cancelled because of Covid this year, so I'm really looking forward to these and so many other amazing concerts next season.
For classical music novices – what clarinet heavy piece of music is a must-hear?
Our most famous piece as clarinettist is definitely the Mozart Clarinet Concerto. And just in case anyone is unfamiliar with the word concerto, it's just a piece of music with usually one soloist in front of an orchestra. But this piece is particularly famous even beyond just being our most famous piece. It's considered one of Mozart's masterpieces, especially because it was written just at the end of his short life.
It appears in movies like The King's Speech, Out of Africa, Twenty-Seven Dresses… All over! The second movement in particular is really just stunning in its simplicity and beauty. Definitely recommend!
You can see Johnathan play at the Bayley's Great Classics performance presented by the APO on Thursday 24 February, as part of Auckland's Pride Festival. For more information on this concert and the APO's thrilling 2022 Season visit apo.co.nz